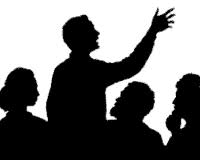 Last week I was in Norway for three days, as a guest of the Bergen International Festival. I had two official duties. One was to speak for about an hour to a lovely group of people, mostly older, with a deep and serious love of classical music. Some that I talked to were amateur choral singers. (And I must say I loved talking to some of them, after my official talk, at a dinner, about subjects other than classical music. Let's never forget that we're full=fledged human beings, with more on our minds, let's hope, than the classical music crisis.)
My other duty was to debate the future of classical music for an audience of perhaps 60 people. My two debate partners were unusually smart and lively, as was the moderator, so the time flew by, we focused on serious issues, and I think we all had fun.
Nothing wrong with any of this. I wasn't a major participant in the festival, wasn't meant to be, and didn't expect to be. From what the moderator said at the start of the debate, I think what might have happened is that festival staff members wanted to address the classical music crisis, Googled that phrase, and found me. No surprise; it's happened before.
So I was content with my minor role. I visited a country I'd never been to, met good people. (And, on Icelandair, watched an Icelandic film and Icelandic TV shows, noticing — was this coincidence, or a cultural trope? — a notable focus on fish.)
Still, I'd love to do something more. The classical music crisis is serious. It's widely talked about, but needs to be even more widely discussed. In particular, I'd think that classical music institutions should be discussing it as part of their normal operation, institutions ranging from orchestras to conservatories. Their future is at stake! So they should be figuring out what how they're going to adapt.
I do know two smaller institutions who've instituted a full-scale internal discussion. The CEO of one of them told me he feels free to do this, because his shop isn't a major brand in what it does, and so doesn't have all that much to lose if it launches something radically new. While the brand-name institutions mostly tread very softly, not wanting to upset their apple carts, even if they worry that both apples and carts will soon be obsolete.
So here's my thought. I'd like to see more institutions, of whatever size, embark on this conversation very seriously. And I'd like to take part, and not just by talking for an hour or two to a few nice people. I'd like to be part of ongoing, private discussions, aimed first at understanding what's going on, then secondly at generating ideas, and finally at taking some action, even if it's modest. A festival, for instance, might engage me not just to talk to the public, but also to facilitate conversations among its musicians. And its staff. And its sponsors. And members of the community around it.
I'd love to do that, and wouldn't think of it simply as a forum for my own ideas. I'd be much more interested to see what the people I'm talking to think, and to hear what ideas they come up with. (Some of my best ideas, in any case, come from others.)
So that's my quiet thought for today, and for the future. Who wants to discuss these things at longer length, and in more depth? I'm ready to help. (And I'm not the only one who could do it. I might also recommend Richard Kessler, the Dean of Mannes College The New School of Music (who by the way isn't the CEO I discreetly mentioned earlier). or Rachel Roberts, director of the Entrepreneurial Musicianship department at the New England Conservatory.
There are others, too. Those were just the first names that came to my mind, thinking not just of terrific people who want change, and understand it, but of people whom I know would be good facilitators.