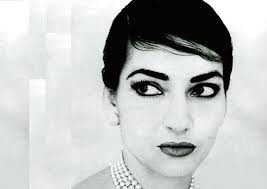 In the US, it's our Memorial Day holiday. So in my Monday Post I'll remember Maria Callas, the great, vulnerable soprano. And her audience! In this brief excerpt from a live performance of Bellini's Norma, Callas sings a gorgeous soft high C (not something she could manage every day) — and the audience audibly reacts while she's singing it.
Which takes us back to the 19th century and earlier, when audiences routinely made their feelings known in the middle of the music. I apologize for not knowing which performance this comes from. I ripped it from a pirate LP many years ago, and didn't write down which recording it was, because my life was full of LPs, and this one sat on a shelf, ready for me whenever I wanted it. Now the recording sits in a box in the basement of my country house. Sigh. I think it's a 1955 or 1957 performance. I know Del Monaco was the tenor. If anyone can tell me which performance this is, I'll be grateful!
Audience participation of many kinds wasn't unknown in 1950s Italy. Callas, during a performance of Donizetti's Anna Bolena, got booed. In the first act finale, she sings — vehemently — the words "Guidici? Ad Anna? Ad Anna guidici?" ("Judges? For Anna? Anna will be judged?") She's playing Anne Boleyn, and Henry VIII has just told her she'll be put on trial for adultery. But she's the queen! To be put before judges is a grave insult. Callas strode to the front of the stage, and hurled the words at the audience. Hoe dare you judge me? 
On another night, she was singing the Barber of Seville, not a success for her live, though her studio recording (with Tito Gobbi) is wonderful. In Act 2, her character has a voice lesson, and sings while her dotty old guardian listens, enraptured. When she's finished, the guardian, in recitative, sings, "Bella voce!" ("Beautiful voice.") The audience hooted. The bass singing the guardian went to the front of the stage, and threw back at them, "Si! Bella voce!" (Yes! Beautiful voice!")
Those were the days. People — both singers and audience — threw themselves into performances, heart and soul. .