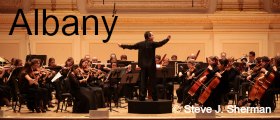 So who is Spring for Music for?
If you go to the concerts, the answer seems obvious. This festival — which finished its third season at Carnegie Hall last week — features orchestras from around the US, some of which haven't played in New York before, or haven't done so for years. Their hometown fans (sometimes more than a thousand at a time) flood Carnegie Hall, waving colored banners.
So that's who the festival in practice is for, the people who most visibly come to it, the ones who most clearly care. The hometown fans.
But I don't think that was the original plan. The founders of the festival talked about programming. Unusual programming. Programs that orchestras couldn't normally do, or could only do by taking big risks, because they might not please the normal audience.
And that's what's stressed in the Spring for Music mission statement:
Spring For Music provides an idealized laboratory, free of the normal marketing and financial constraints, for an orchestra to be truly creative with programs that are interesting, provocative and stimulating, and that reflect its beliefs, its standards, and vision. Spring For Music believes that an orchestra's fundamental obligation is to lead and not follow taste. As such, programming needs to advance, and not just satisfy, expectations.
So this year the Detroit Symphony played all four Ives symphonies. The Albany (NY) Symphony played Gershwin's not so well known Second Rhapsody, and a symphony by Morton Gould. The Buffalo Philharmonic played a Giya Kancheli piece, and a symphony by Glière.
Clearly this isn't mainstream stuff. But it's not what's bringing people to the concerts, despite a low, low ticket price — all seats are $25. What brings people to the concerts is hometown pride.
I wonder if the founders of Spring for Music expected that. And I wonder if they asked themselves whether the programming — the heart of their concept — would itself have an audience.
My sense is that it doesn't, that there isn't any established audience, even in New York, for adventurous classical programming. There's a young new music audience, but that's a different thing. It's not showing up for Glière.
There's an audience that'll come to mixed classical/indie rock events. There's an event audience — people who'll go to classical programs at Lincoln Center festivals that include all kinds of performances, not just music (and where not all the music is classical). Performances that in the context of the larger festival seem like events. Or people who for 30 years have been going to the Next Wave Festival at BAM.
And there's an audience for free or inexpensive classical performances, the audience that goes to hear the Met and the New York Philharmonic when they play in city parks, or who show up when ticket prices drop. But these people, from everything I've seen about them, would look at Spring for Music's programming, and say, "But I don't know this music!" They want the familiar masterworks.
Without the hometown crowds at S4M's concerts, Carnegie Hall would look pretty empty. Of course, the orchestras can buy tickets for their hometown fans in advance, so maybe the seats, if they'd been available, would have been filled by New Yorkers.
But I've heard that S4M tickest are hard to sell in the NY market, and I'm not surprised. Because, again, I've never seen or heard of any large NY audience drawn by the kind of programs S4M does. Someone I know who's involved with classical programming in New York used to complain — sometimes wryly, but also sometimes bitterly — about how few people would come to unusual programs. 
And I think of someone in her 30s whom I met at a birthday party years ago. She'd just moved from San Francisco to NY. When, as we talked, I told her what I do for a living, she responded with great excitement. She'd heard MTT conduct the Ives Fourth Symphony at one of the San Francisco Symphony's "Mavericks" concerts, and been thrilled. But she wasn't an Ives fan. Before the concert, she hadn't known who Ives was. It was the Mavericks brand that drew her, the sense of event, the buzz around those concerts that told people they'd have a great time no matter what was played.
And this is what Spring for Music seems to miss. Look at their website. Utterly blah. Routine graphics (like the one at the start of this post) — standard shots of conductors and orchestras, signifying nothing, offering not even interest, let alone excitement.
And on the home page there's not one word about the programming mission! Nothing that says, "These are special concerts! Not like anything else. Pick one at random. You'll be intrigued, absorbed, captivated, thrilled. Go to several, to multiply that. No two of these concerts are alike." I'm just improvising these words. S4M, if it wanted to, could do much better.
And of course I'm looking only at the website. Maybe, in other marketing, other PR, S4M did do what I'm suggesting. But not doing it on the website is — not to mince words here — an amazing omission. Why aren't they selling what they most care about? Why aren't they offering (at least in my opinion) any selling points at all? When someone goes to the site, what's there to make her care?
One last thought. Back to those exuberant, whooping hometown fans. I loved seeing them at the Detroit Symphony concert I went to. But if S4M did draw a NY-based event audience, would there be two not wholly compatible groups at the concert? The event audience would be an arts audience. The hometown fans come off simply as fans. I don't mean to say they don't love classical music, and might not know lots about it. But what comes across is their not arts-based enthusiasm. They're cheering, in the end, for the home team, much more than for the programming.
The event crowd, from what I've seen of it, is an entirely different group, hipper, more clearly urban, edgier, more visibly interested things that are new and advanced. What would they think of the hometown fans? Maybe they'd love them! But on the other hand, I'm not sure anyone would deliberately go out to create an event meant to appeal to both groups at once. An unlikely marketing strategy, I'd think