The happy news:
a composing pr

oject premiering Thursday

my blog collaborators

and a grant I've gotten, to help me start a catalogue of changes in classical music
Though first something less happy — an attack of stomach flu. That's over, but it laid me low for a bit. One reason for less activity you might have seen from me.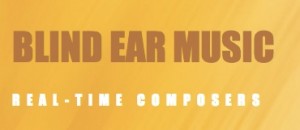 Especially because I also, stomach or not, forged ahead with a composing project, which will be heard Thursday in New York. This is a piece for Blind Ear, a comopser/musician collective cofounded by a former Juilliard student of mine, Cristina Spinei. And with a hot premise — realtime composing. You write loops, and with software the group's other cofounder, Jakub Ciupiński, developed, you mix your loops in real time, while the musicians play them.
So you shape your piece right there in the performance. I'll be doing that at Blind Ear's concert Thursday at 7 PM, at The Tank, 51 W. 46th Street  between 6th and 7th Avenues, on the eighth floor. I call my piece "Out for a Run," because it's a rhythm romp. And I'm intensely curious to hear what the other composers do. If you're there, come say hello. (There's one happy blog reader playing second flute, and she gave me good advice about mixing my loops.)
Of course Blind Ear should be on our mavericks list.
So that's one reason I'm having happy days, professionally.
And another is the growth of a real blog community. If you've read the blog a few times, even casually, in the past few weeks. you've seen a parade of guest bloggers, people I'm proud to have here. And we've also got some volunteers, doing useful work behind the scenes.
I'll introduce the first of them below, but others will be joining us to work on a big project — a catalogue of the exploding changes in classical music, which are transforming our field, and building the road to the future. I'm thrilled to say that I've gotten a small but very welcome grant from the alumniVentures program at my alma mater, the Yale School lof Music, to help get this started.
So let me introduce our blog team:
Greg Sandow
Caroline Firmin (my virtual assistant, who manages and organizes many things here for us)
Guest bloggers (the links go to representative posts)
Gerald Klickstein (honorary team member; I don't know that he'll blog again, but he graciously let us repost, from his own blog, the best thoughts I've ever seen about why music schools should teach entrepreneurship)
(with more to come)
Volunteers:
Sandra Mogensen (who, bless her, offered to fix old posts that got scrambled when ArtsJournal moved the blog from Movable Type to WordPress)
Shortly, I hope, I'll be able to announce some people working on the big project I mentioned above.
So many thanks to the blog team. I recruited some of you, others came in response to my call, weeks ago, for participation. All of you widen our scope, and make the blog more than it's been.