This is my course on the future of classical music, called "Classical Music in an Age of Pop." You can see the week by week schedule — and all the assignments — here.
And I'm ready to teach a version of the course online. Three 90-minute sessions, with group discussion, for $250. I have people interested already, and if I get one or two more, I'm ready to go! Please contact me if you'd like to join us.
So what happens in this course? Which, I'm amazed to remember, I've been teaching now for 17 years.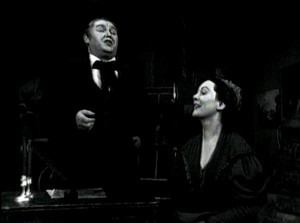 Well, right now we're looking at what classical music was like in the past. Much freer, much more flexible than it is now, and with a lot more popular appeal. I've just been preparing a video for students to watch for next week's class, in which Jussi Björling and Renata Tebaldi sing an excerpt from La bohème (as seen in a 1956 network TV show). We could talk about their fabulous singing, but what especially gets me is what superstars they were, larger than life, commanding the screen, completely sure that the whole world loved them. Something that's not likely to happen now, because opera singers can't be sure the whole world loves them, and also — my theory — people with that kind of grand temperament do something more popular than opera.
We look at wild things that went on in classical performances (here and here)— audience participation, improvisation by musicians, even entire violin sections improvising ornaments, each violinist making up his own, independent of the others. That sounds a little crazy (and was condemned by many musicians in the 18th century, when it happened), but much of the rest is, compared to the formality of our own time, inspiring. Or at least I think so! Listen, just for instance, to the great pianist Wilhelm Backhaus, improvising a prelude to a Schumann piece. "Preluding," as the practice was called, was something every pianist did in the 19th century, and here's Backhaus doing it toward the end of his life, as late as 1969. It's so beautiful — settles us down, prepares us to listen, sounds perfectly natural, and of course helps Backhaus make Schumann's music his own.
We talk about the classical music crisis, looking at all its sometimes dire details. We talk about the position of classical music in our culture, discussing my own view — familiar to readers of this blog — that classical music has retreated from our wider culture, because that culture greatly changed over the past two generations, but classical music didn't.
One way I illustrated that was by asking the students how classical music might celebrate Black History Month (which of course is this month, February). A hard question to answer! Because yes, you could play black composers, or feature black soloists, but how would you highlight black culture? In the past 50 years, it's come to play a major part in our society, but not in classical music. Which can lead to embarrassments (or what ought to be embarrassments), as when, a few years ago, Carnegie Hall had festival of black culture, and the Philadelphia Orchestra joined in — sort of — by playing Milhaud's La creation du monde, a thoroughly white piece that draws on the sound of jazz.
And then the second half of the course is all about the future — wonderful changes in our field (which we've talked about a lot on this blog). And entrepreneurship, something very big in music schools these days (even Juilliard has the very early beginnings of an entrepreneurship program). Students can make new kinds of careers, in new ways they find for themselves.
It's a stimulating course to teach. One change over the 17 years I've taught it: Almost every student wants to see classical music change. And when we talk about the premiere of Mozart's Paris Symphony, and the letter Mozart wrote to his father, explaining how he put things in the piece to make the audience applaud (right during the music, as was done in the 18th century) — well, a decade ago, when I asked my students how they'd feel if their audiences applauded during the music now, many of them had doubts. But in recent years, almost everyone just loves the idea.
Times have changed,. and this course is one part of that. I love teaching it.