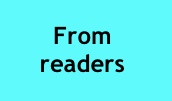 Continuing the growing list of mavericks, people in classical music who do things in new ways. Go here for the first post in December's mavericks series, scroll to the end for the complete list.  Readers named more than 50 maverick people or groups. And here come some more.
Start with Etienne Albin Abelin, a Swiss violinist, composer, and conductor with an active career both in the classical mainstream, and in indie classical work. Here he is as a member of Orchestra Mozart Bologna, a group Claudio Abbado conducts. And here's a MySpace page of his own work.
ADDED LATER: And here's his new website, whose address he just sent me — two days after the post went up — in an email. (In which he also gently corrected me about his last name. Which I know perfectly well, since we've been in touch for quite a while, and have met in person. There ought to be a name for this kind of mistake. I know his last name, but an incorrect version of it keeps popping into my mind. I then correct the incorrect version. But this time I didn't. Mistakes, as any journalist knows, are inevitable. But we have to police ourselves more carefully than I did here. Apologies, Etienne.)
From him I'll offer two things. First, a definition of indie classical musicians (which he sent me in an email), a definition that resonates a lot in me:
They're all united by being outside of the concert hall, casual (non-formal) in character, inclusive, with a hint of rock'n'roll and when it comes to new music, promoting music that is "on the ground", often between genres, speaking to people. Often independent efforts, often with a strong DIY element, but not only. —- Not: concert hall formality and ivory tower avant-garde. And not "classical lifestyle" with focus on status, luxury and exclusivity.
[Not every maverick that shows up in these posts fits here. All indie classical musicians are mavericks, in the sense that we're using the word. But it's perfectly possible — look at the River Oaks Chamber Orchestra — to be a maverick without being indie classical.]
And then there's Etienne's description of his own maverick/indie series YNight:
Our own Ynight – Classical in Club series started a few weeks ago like this, very successfully, with audience participation in turning the new real-time animation tool for visualizations:
http://ow.ly/fiHds [the link goes to a video]
Here's our TEDxZurich performance of the same day:
http://www.tedxzurich.com/2012/10/stephen-malinowski/
YNight is a series of 9 performances this season – the next is next week, on December 20th and we'll try to live-stream it like the last one, it's a matter of covering the costs. Electronica producer Feldermelder is re/decomposing Brahms and Berg which is juxtaposed with a piece by Missy Mazzoli and a movement of the Brahms Clarinet Quintet.
Later in the season there'll be Vilde Frang, David Orlowski and Julien Quentin doing an electro/classical evening with the title "Dance!", Andreas Scholl will come with Tamar Halperin to do Dowland and pop songs in "The Dark Soul" and we'll have New Amsterdam Records represented and I'm trying to present some music by Gabe Prokofiev at some point.
All is still powered by a network of DJ label, VJ collectives, indie rock experts, electronica producers, designers, journalists and classical musicians under the name "classYcal".
No real web presence yet, we're working on it – for now the Ynight facebook page and classYcal group do the job.
From Ron Pen, music professor and traveler extraordinare, whom I met at the University of Kentucky when I spoke there in 2011:
On this day marked by three french hens, two turtle doves, and a partridge in a pear tree [Ron sent this to me a while ago!], please allow me to offer one more "maverick" under the Christmas tree. Ethel, the New York-based string quartet that is not a quartet, but a "band." Classically trained, but transcendent of classics and training, Ethel plays no music by dead composers and stretches itself in innovative ways through residencies that mash up their style and technique with interesting musical corners of the universe. I was delighted to share time with them on a trip to rural Kentucky where they entered into the world of shape note hymnody and old time fiddle tunes with reckless abandon. This culminated in a remarkable convert at the Lexington Opera House. An event that was as much opry as opera. Thank you for the blog and the hopeful thread of mavericks (I still love the nostalgic association with the tv western series) that banishes the boundaries of folk, popular, and elite art.
[A fine choice, Ron. I've seen them, playing a concert in a small space, stop to introduce "the members of the band." And they've been breaking some creaking old boundaries by touring with Todd Rundgren, as I noted in a post of my own.
[And of course they're just one of many new-music ensembles and soloists, doing new things in new ways, breaking all kinds of boundaries: Jack, Alarm Will Sound, the Bang on a Can All-Stars, Zoe Keating, Maya Beiser, Brooklyn Rider, Peter Gregson, Todd Reynolds. Not at all a complete list! But an important one. If you click on each link and browse each website — plus Ethel's — you'll get a fine introduction to the indie classical world.]
Liat Shetret emailed about Shuffle Concert, which I'd mentioned in my last mavericks post. But for all kinds of reasons I'll quote what she said, giving Shuffle Concert another shot here. She emailed me long before my post, and I simply lost track, forgetting that she'd done it when I posted about the group. She also writes about them in a lovely way. And, though she doesn't mention this, she's not a classical music professional, but instead a senior analyst at the Center on Global Antiterrorism Cooperation, or in other words a civilian in our industry. I don't know how thoroughly our discussion here has been inside the business, but most likely much if not most of it has been. How nice, then, to have someone from the audience we want to reach!
Liat writes:
It is my pleasure to introduce you to 'Shuffle Concert', a 6 person ensemble (piano, soprano, violin, clarinet, cello, oboe), dedicated to top notch musicianship in a non-traditional program format.
Shuffle Concert's format is unique as it allows the audience members to choose what they want to hear from a menu of over 14 different styles (baroque, classical, jazz, broadway etc.) and over 42 different pieces overall. Some of the pieces are uniquely arranged for this specific sextet.
These guys are dynamic, exciting and energetic and I've seen them whip a room of senior citizens into an excited frenzy, and similarly engage wiggly children in beautiful classical pieces by Ravel, Brahms etc.
While I can go on and on to commend the style and sound these guys produce, I might suggest it be best to put the website forward and invite you to learn more about the magic of Shuffle Concert, both in concept, design, and delivery. I hope you will love it!
And finally, from Barbara Vance, who's proved to be an enthusiastic email correspondent:
I read your blog with great interest and was thrilled to see your postings on Mavericks in the Classical Music world.  I am writing to nominate Richard McKay, who founded the Dallas Chamber Symphony (DCS).  Richard is as true an entrepreneur as I have ever met.  Not only did he identify an untapped market in Dallas (that of a smaller, chamber experience) but he also set about creating a solid business plan on which to operate—one that avoids some of the issues faced by other similar institutions.
Richard's solidified his goals for the orchestra by identifying what specific communities lacked, then set about creating an organization that filled these areas.  For musicians, this means to opportunity to perform challenging, less-frequently played works that featured them more than a larger symphony would.  Composers who craft works for smaller ensembles are able to have them performed.  Richard reaches out to students in local schools who are unable to receive classical music education, offering them special learning experiences.  He has partnered with Southern Methodist University to create an International Piano Competition that gives rising musicians the chance to compete, perform, and ultimately play with the DCS.  Acutely aware of the opportunities afforded by technology, he created an interactive iPad app that allows anyone to engage with an upcoming performance before the actual concert so they are able to come prepared, educated, and ready to experience the music.
 His concert programming is equally innovative—especially his film series, for which he commissions brand new scores to silent films….most recently Harold Lloyd's A Sailor Made Man, and soon The Cabinet of Dr. Caligari.  Other symphonies accompany silent films, but few have new scores created—it is exciting beyond measure to attend an event that premiers new work in such a way.
Richard does all of these things on a well-designed, sustainable business model that ensures the DCS operates within budget and at minimal expense.  His model is "per-service", so the musicians are contracted and paid professional wages for each rehearsal/concert service they perform instead of an annual salary.  It permits the musicians to earn significant income while keeping symphony costs low. He was able to affiliate the symphony with Dallas' new City Performance Hall while not having to own it—simply paying rent services for performance nights; and the overhead costs of running things are extremely low.
I learned about the DCS by attending one of the conferences, but it wasn't until I started volunteering that I really began to appreciate how well-planned and executed the organization is.  Richard (who, like another maverick you listed, Caitlin Vincent graduated from Peabody) strongly believes that conductors need to be entrepreneurial—and it seems to be working for him.  I cannot think of a better "Maverick" than he.