So I was listening to Jenny Lin's recording of Shostakovich piano preludes and fugues, and thinking back to my graduate school days, when Shostakovich was a nonperson among atonal composers.
But, far more, I was hearing how vital the music is. Preludes and fugues seem like archaic forms, and you'd think anyone writing them in 1950, when Shostakovich started his, would have the weight of Bach bearing down on him.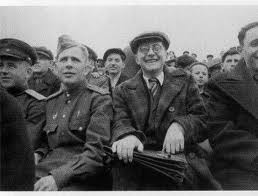 But of course the music doesn't sound archaic. It's the usual Shostakovich mix, which — and I just love this about him — includes circus music (think of the finale of the Sixth Symphony), the pop music of his time, musical comedy, and so much more. We see so many serious photos of the man, but I love this one, showing him rocking out at a soccer game.
Which isn't in the least to minimize how nervous and oppressed he was, how deeply serious the meaning of his music is, or anything else from the profound or even somber side of the artistic stress. But there was more to him than that, and musically he was a complete citizen of his time, as you can hear in his Festive Overture, his "Tea for Two" arrangement, his musical (performed this year in Chicago), his love of jazz, the score for the "Silly Little Mouse" cartoon the Brooklyn Philharmonic played this season,  and so much more.
I think, in fact, that Shostakovich was the last composer of this kind, or at least the last famous one, the last who was part of the mainstream of musical life where he lived — of all musical life, not just the classical kind. Maybe Leonard Bernstein came close, in his youth, when he was a nightlife celebrity in New York, writing pure Broadway-style musicals like On the Town.  But his classical music lived purely in the classical world, while Shostakovich's lived more vividly. Think of the audience of Leningrad artists and intellectuals, at the premiere of the Fifth Symphony, knowing that its message was something they had to hear, and that its fate might well be theirs as well.
Or, more peacefully, the premiere of one of the early string quartets, the third or fourth (sorry for my vague memory, and I can't find the story as I'm writing this). After the premiere, there was a party in a restaurant. The quartet was played again, and, in one of the movements, the audience sang along with a delectable tune.
I don't think this array of echoes outside the classical world happened with any other classical composer of Shostakovich's time, or afterward. The reasons for it aren't complicated, and I think they're all about the Stalinist repression that Shostakovich suffered from.
First, modernist music wasn't allowed in Stalin's world. So the leading composers didn't split off from the bulk of the audience. Second, pop music couldn't have the commercial and cultural triumph that it had in the west, so classical music kept much of the cultural force it had had in the past.
And, finally, the arts were politicized, as we know, and so anything an artist did had powerful meaning. And, often, life and death significance. Which is why the premiere of the Fifth Symphony was such a fraught event. What response would Shostakovich have to vicious attacks from those with power to — quite literally — kill him? Would he cave? Would he find a way covertly to resist? What could he get away with? What would he be forced to do? All the artists at the premiere had to asked these questions, because they themselves would feel the force of the answers. Answers which might tell them whether they themselves would live or die.
The sense of all of this, burned into Shostakovich's work, is one reason that it stays so powerful. We can feel the life force of the world around him flowing through it.
And one more thought. We know now that Shostakovich has depths of irony buried in his work. On the surface he says one thing, in the depths another, and — alongside the surface and the depth — we also hear his sometimes bitter, sometimes ironic, sometimes melancholy, sometimes tragic understanding of himself. Coexisting with his injured sense of fun.
This makes him our contemporary. Our culture, too — and above all our popular culture — is shot through with irony. Irony, for instance, about the modes of presentation we adopt (you can see this in pop bands), authentic, honest, posed, commercial, subverting expectations at the same time that those expectations are fulfilled, and all these things (and more) happening at once. And consciously.
Shostakovich, I think, is the sole voice — the sole great classical composer — with depths of irony like that. And that makes him our contemporary.
Footnote: I had a student from Russia some years ago in my Juilliard course on the future of classical music. She talked once about her love of Shostakovich. When she was growing up, in the old Soviet Union, she'd hear festive march music at Communist celebrations, and hate it for its dishonesty, and because she'd be forced to act as if she liked it. She heard that march music mirrored in Shostakovich's work, along — no one could convince her otherwise — with a reaction to it just like her own.