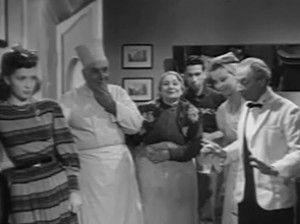 There's a moment from a 1950 Italian film — Mad About Opera — that's a touching tribute to how popular, how deeply loved classical music used to be. Or, if you like, how deeply loved opera was in Italian communities, but that's just a subset of the overall popularity. And certainly isn't something you'd see now, even in Italy.
The scene is London, in a restaurant owned by an Italian. A lively (to say the least) argument is going on about a plan a young guy has. And then someone plays a Gigli record, and conversation stops. A young woman comes from another room to listen. The kitchen staff comes out from the kitchen. Passersby on the street gather by a window!
As I said, it wouldn't happen now.
A few details:
Beniamino Gigli, for those who don't know him, was the world's leading Italian tenor in the 1930s and '40s. Here he's singing "M'appari," from Martha. I doubt you'll need any further introduction to see how powerful — and delectable — he was, though in fact he had both power and subtlety that this short excerpt barely hints at. 
In liner notes for a CD set of Gigli singing Neapolitan songs, I've read of how despised that music was by London musical sophisticates, but how Italians in London came, full of love, to hear Gigli sing it. "M'appari," of course, is an aria, not a Neapolitan song, but the picture painted in the liner notes shows what Gigli meant to the Italian community. Italians in London in 1950 wouldn't have heard him live for more than a decade, since he was in Italy — on the opposite side — during World War II. And, in 1950, much of London was still in ruins from German bombs, so life was hardly back to normal. Hearing Gigli would have been a special treat. 
So, yes, this movie excerpt shows a situation not quite normal. But still — do you think anything in classical music would get such a reaction today, in Italy, an Italian community, or anywhere else?