I already said much of what follows, in my post about Alec Baldwin's favorite records. But it needs saying again. It's crucial for classical music's future. Remember the commandment: Respect the culture we find outside classical music. So let's take another look at what that culture is.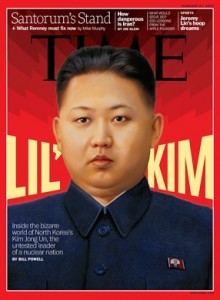 I was driving the other day, and listening to an NPR show about American vice-presidents, a subject it's easy to have fun with. So when the host mentioned George Clinton — veep during Jefferson's second term — all at once we heard music from George Clinton the funk god.
"No, not that George Clinton!" said the host.
And the moral of this story, for the future of classical music? NPR's producers could assume that listeners would know the funk George Clinton, and in fact might have thought of him — I know I did — as soon as they heard the name.
Which is to say that pop music is everywhere in our culture, not just as the plague some intense classical music loyalists imagine it is, but as a common reference point, shared (let's note) by just about everyone, includingeducated NPR listeners, whom I'd think would be a target audience for anyone trying to widen classical music's reach.
Another example: Time has a cover story about Kim Jong-eun, North Korea's very young hereditary leader, and the words on the cover are "Lil' Kim." Which of course is a play on the hiphop star Lil' Kim, the first woman to have a No. 1 pop hit with a rap song. A name Time figured its readers would know.
These pop references are everywhere. "Jailhouse Smock" as a front-page headline in the New York Daily News. Or this jokey aside in an otherwise serious New York Times piece on economics: "Weimar Germany's inflation led to Hitler; some blame inflation in the United States in the '70s for giving us disco."
Or my favorite, a headline in a long-ago piece in the Times food section, about root vegetables: "10000 Maniocs." Anyone reading the food section, the editors must have thought, would know Natalie Merchant's band 10000 Maniacs.
WNYC, New York's public radio station, is giving away Bruce Springsteen's new album to people who donate money in the current pledge drive. Which means (to state the obvious) that a lot NPR listeners want to hear it. So again, NPR listeners surely are the precise demographic classical music needs to reach. And if you want to know what music they like, go to NPR's terrific music page, on which classical music takes its place as one of many musical genres, and certainly not the main one.
All of this, for most people in our culture, is stating the obvious. But some people in classical music aren't there yet, don't understand how pop music — in all its great variety, with quite a bit of artistic depth — is what our culture's music is. When I listen to public radio — Morning Edition, All Things Considered, the Brian Lehrer and Leonard Lopate shows on WNYC — almost all the theme music, the musical logos the shows us, has a beat.
Or else people think this is somehow horrible, a victory for the forces of noise and thoughtlessness. From which classical music proudly stands apart. It's a shame that people think that. It's so wrong, and — I'd think this is beyond dispute — will get us nowhere when we try to reach out beyond classical music's borders.
Because who are the people who've fallen — allegedly — into noise and thoughtlessness? Or who, less strongly, have accepted music that's shallower than the music we want them to like?
They're our friends, neighbors, and family. Not to mention the editors of the New York Times, the producers at public radio, and, for that matter, the curators at the Hirschhorn Museum in Washington, where in May there's going to be an art piece projected on the museum's outside, accompanied by multiple versions (the original and covers) of "I Only Have Eyes for You."
We'd better embrace the culture we're in, enjoy our status as one of the many musical genres that give us so much diversity, and tell people not why we're better, but why we deserve their attention even while they're giving money to WNYC, so they'll get the new Springsteen.
Or else we're going to get very lonely.