The problem with René Jacobs' Handel recordings, says Stanley Sadie (the distinguished musicologist) is that their "rough and explosive sound" is "alien to the refined and elegant age to which the music belongs."
Or so I read on Sunday in a story about Jacobs' critical reception, in the Arts & Leisure section of the New York Times.
And there we see much of the problem that classical music has these days — it's out of touch with reality. So many people want it to be refined and elegant, more so than the world we live in. But to do that, they pretend that it was refined and elegant in the past, when clearly it wasn't. Which means they've falsified classical music's history, and made it lose touch with its own reality.
Now, I love Jacobs, and have even played parts of his recording of Handel's opera Rinaldo (now apparently out of print) in my course on the future of classical music. Wild improvisation during the secco recitatives, an improvising timpanist in the ritornello of a bass aria, singers singing along with some of the instrumental music — it's a performance that's more than rough and explosive. It recreates what Jacobs thinks must have happened during Handel's own performances, and in doing that explodes our old ideas about what Handel operas ought to sound like.
But Stanley Sadie doesn't like that, because Handel's operas, he thinks, come from a "refined and elegant age." I can't pretend I'm an expert on the 18th century, but to call that time a refined age you have to ignore public executions, frequent, bloody wars, bloody duels, aristocrats who rarely bathed, streets covered in horse shit, sewage in the gutters, and much, much more. The formal manners of the royal courts (which might seem refined to us) hid — or often were weapons in — truly vicious battles for power and status.
And as for music, returning now to Handel…we've come to think of Baroque music as refined and elegant, but the word "Baroque" means just the opposite: "exuberant and ornate," says the Shorter Oxford English Dictionary (defining Baroque style in music and architecture), or, more generally, "elaborately or grotesquely ornate; whimsical, bizarre." Which is exactly how Baroque music, when it was new, struck people whose taste had been formed in an earlier age: overwrought, undignified, uncivilized. The tone-painting we find so charming in Bach, Handel, and Vivaldi — storms depicted in music, rapid rising scales to symbolize the Resurrection — were, in their time, either wildly exciting (for the people who liked them) or wildly disturbing (for people who didn't).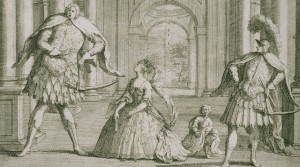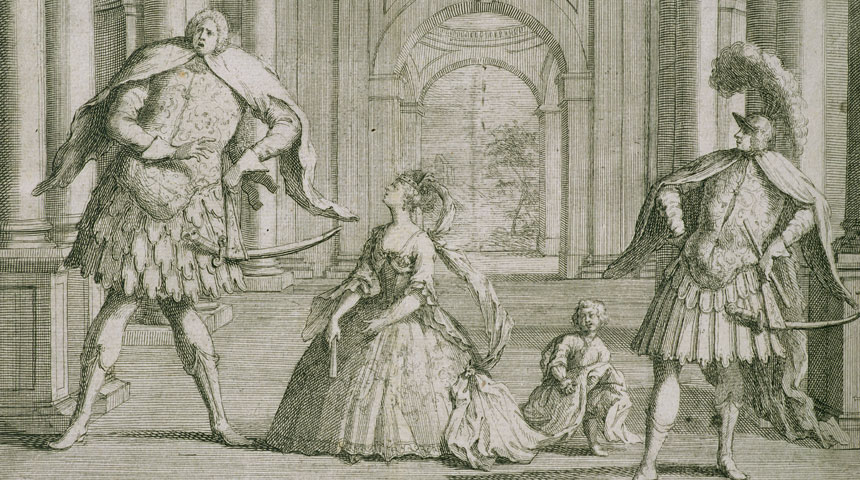 And if you bought yourself a time machine, and saw Handel's operas in London when they were new, you would't find anything like elegant refinement. The nobility sat upstairs in the theater, their servants stood downstairs. Everybody talked, all through every performance; people shouted things at the stage.
The emphasis — in the operas themselves — was on spectacle, theatrical and vocal. A witch, in Rinaldo, makes her entrance in a flying chariot, pulled by fire-breathing dragons. Singers ornamented their music wildly. Handel, leading the music from the harpsichord, was himself an attraction, because of his extravagant improvisations.
The musicians in the orchestra improvised. Often the stage effects — though gaudy and elaborate — didn't quite work. One contemporary account talks about a storm at sea depicted onstage, with a boy working the machinery clearly visible, taking snuff in the midst of the tempest. Birds, released in the theater during a garden scene in Rinaldo, shat on the audience.
The singers were anything but dignified. The stars were castrati, many of them gossiped-about because of their many affairs, with both men and women. Once, at a Handel performance, rival prima donnas got into a fight onstage — a viciously physical fight, with the largely male crowd no doubt shouting encouragement, even with the Prince of Wales sitting in a box. (He'd surely have enjoyed the fight just as much as anyone else.) The next day, a London newspaper published a satirical poem about what happened, full of explicit sexual comments (and I do mean explicit), on, for example, the imagined size of the singers' body openings, and what kind of sex they indulged in.
How can we, given all this, believe that the musical performances were elegant, or refined? They must have been as full-bodied — as lusty — as everything going on around them.
Which means that Jacobs is right to turn the music loose. When we pretend that things were refined and elegant, we falsify the music we're playing, and lose a chance to connect with the lusty world around us.