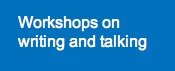 More on writing/talking about music, because as you'll see in another post, I'm inspired to start a business in which I help people do those things.
In the past, I've taught workshops on these subjects. Here's one of them. I'll talk about others in future posts.
Center for Arts Criticism, Minneapolis
I did this workshop in the  '80s. I had 15 or more people to work with, both pop and classical critics.
My method: We read Greil Marcus's famous chapter on Elvis, from his first book, Mystery Train (one of the classics of rock criticism), as well as some George Bernard Shaw. I wanted to set the bar high — and give people a taste of very personal, very evocative criticism.
Then I'd play music, and ask people to describe it. Most of the descriptions were more or less generic. That is, they (a) could have described many pieces of music, not just the one I was playing, and/or (b) they were things many critics would say, confronted with the same music.
I'd been given writing by the people taking the workshop, and in most cases their writing was fairly generic, too. Example: a pianist plays Rachmaninoff with the local orchestra, and the critic says her playing was virtuosic. Which is more or less a given, for anyone playing a Rachmaninoff concerto at all adequately. And — apart maybe from suggesting that the performance was in some way exhilarating — tells us nothing about what this particular pianist offered.
I pushed the participants very hard on this. Kept asking for more description, more words and phrases, drilling down until I heard something personal.
Example: one thing I played was the first Glenn Gould recording of the Goldberg Variations, the opening "Aria." One woman said it was delicate, then said it was precise. All true, but many things are delicate, many things are precise. I kept pushing. After a while, she said the performance was deceptive! I pounced. That was a fascinating thought, I said. I'd never heard anyone say that before, about this very famous performance. What did she mean? Please, I asked, tell us more!
After repeated doses of this, the people in the workshop were coming up consistently with intriguing, unexpected, personal — and accurate — words about the music they heard. They were, quite literally, transformed.
There was one problem, though. They got together, toward the end of the sessions, and asked me to talk with them about how they could use what they'd learned, in their writing. Their editors, they said, might not accept such a personal approach.
I agreed. That could be trouble. So we talked about how to compromise, how to write what you really felt, without going so far that your editor might not let you do it.
But isn't this fascinating. And important! They all had more personal reactions to music than those they wrote about. But they didn't think it was their job to use them. They thought it was their job to be generic, to say what everyone else said.
But they could unlearn that.
The Center for Arts Criticism — as I just learned by Googling it — changed its focus in the '90s, when it lost its NEA funding. Now, I read, it focuses not on training adult critics, but on "youth media projects." And it may no longer exist. Or at least I couldn't find its website.