I've had some urgent personal business, and couldn't immediately respond when Dixon — the cartoonist at Adaptistration — so wonderfully lampooned me. Adaptistration, as people in the business know, is Drew McManus's enterprising blog about the orchestra business. Enterprising enough, in fact, to have a cartoonist, and here's what Dixon did to me (follow the link for the original):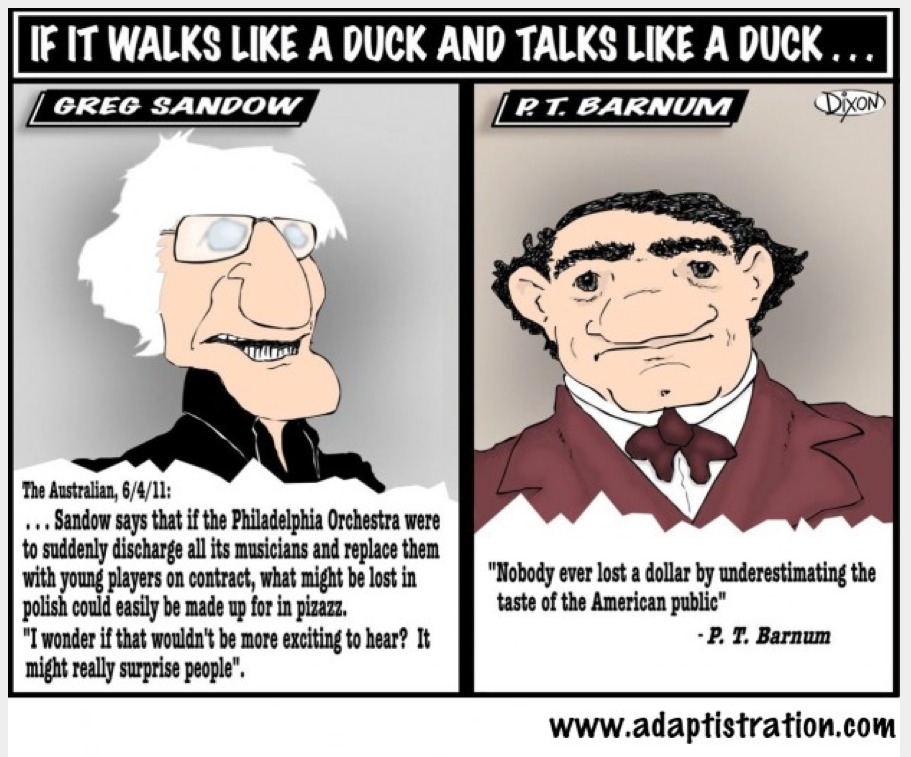 I don't think I've ever been caricatured before. And, quite honestly, I wouldn't have thought I was well enough known to caricature. So I'm really quite flattered. I've asked Dixon (through Drew) if he'd send me an autographed copy of this really well-done cartoon, and when it comes, I'll probably frame it.
One thing missing from the story was a link to The Australian. I was interviewed by their writer Michaela Boland for a story taking off from the Philadelphia Orchestra bankruptcy, which appeared on June 4. She quoted me quite a lot (again I'm flattered), and you can follow the link to see exactly what she has me saying. A few details aren't quite in place, and she might have strengthened my remarks about an orchestra of younger players just a bit, but still — it's accurate. I said this heinous thing, which — as I know full well — flies in the face of the conventional wisdom that our orchestras play very well.
Which in fact they do, by normal classical music standards. But are those standards high enough? Not just for orchestras, but for all classical music performances. When we go to an orchestra concert, does the hall crackle with excitement? Do we hear playing that melts our hearts, and keeps us on the edge of our seats? Do we hear performances that are unique — performances that stand out, in distinctly individual ways, from other performances of the same piece?
I don't think so. And that, I think, is a problem in an age when we want to get more people going to classical concerts. If the performances are merely very good — if their highest excellence is largely measured by subtleties only a connoisseur can appreciate — then what's going to keep people coming.
This will be a perfect time to ask how well orchestras really play, something I'll start to look at on Monday.