Here's the cover of Soap Opera Weekly (captured with my iPhone), screaming in rage about the news that two iconic soaps were cancelled. Didn't matter that people weren't watching, that ratings for soaps have been sinking for a while. No, the cancellations were an outrage. Appalling. Irresponsible. We want our soaps!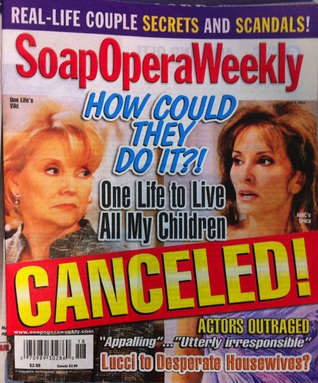 Am I the only one who might see an echo here of what we in the classical music world have been known to do, when (let's say) public radio cuts back on classical broadcasts? We're outraged! How dare they?
And, often enough, we bypass our own not so pleasant truths — that (for instance) people aren't listening to classical broadcasts, that ticket sales are falling, that the money to support the Philadelphia Orchestra in its accustomed style just isn't there. We don't want to deal with any of that. We deny that it's happening. We demand our classical music.
If you think I'm exaggerating, follow the

link

. (It goes to a story I wrote for the

Wall Street Journal

about cutbacks in classical broadcasting in New York.)
Now for a pep talk. Of course classical music ranks higher as art than soap operas do. And of course it has a deeper place in our culture, and — maybe unlike soaps — a small but steady stream of young people who are truly passionate about it. So I'm sure it has a better future.
But there's a flip side to our passion for our art. We might (self-righteously, I fear) insist that claim that not only are we deprived of classical music, but that civilization itself is threatened. Which is hardly true, and certainly won't convince anyone not already on our side.
The link is amusing — if classical music declines any further, says Pinchas Zukerman, we'll see riots in the streets!
So what — sometimes, anyway — we share with the soap opera fans is a sense of entitlement. Which (sometimes) we proclaim to the world, unaware that we're turning off the people whose support we need.
Whereas what we should do is take our bad news like grownups, and go out and develop an audience for classical music so strong and large that no one can ignore it. Easier to say than do, I'll grant, though I think that — taking all of us together — we've taken the first steps.
And I'm sure we can succeed! But not by bombarding the media, or government, demanding support. If we're that helpless — that weak, so strongly relying on the kindness of strangers (which they're not going to give us) — then do we deserve to survive?