Previously: the London Symphony presents alt-classical new music, to a giant audience…the Guildhall School of Music and Drama teaches classical music students to improvise, has them work with actors, and does research on what professional music education (and music-making) really means.
And now…
This terrific performing arts center — which, back in the 19th century, was a place where steam locomotives turned around — is, where music is concerned, essentially a pop music space. But it also presents classical music, and also other high-culture things, like the Royal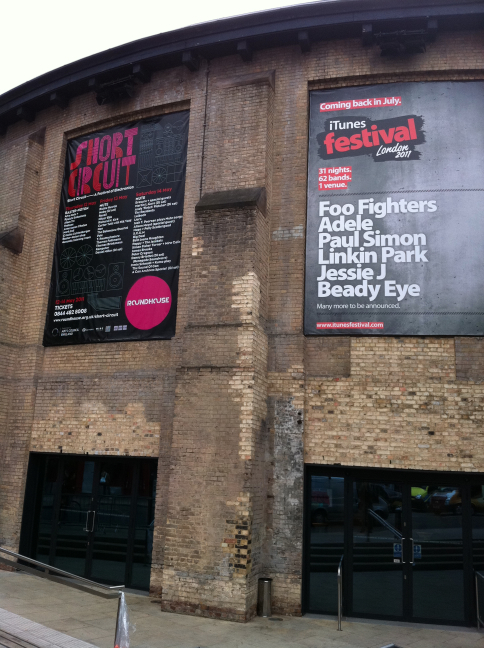 Shakespeare Company. Presents them, that is, to its own audience, and more generally to a young audience that for the most part wouldn't seek out high culture.
The photo (from my iPhone) gives you some idea of the distressed industrial style of the place. Though what you can't see is how spacious and sharply designed it is inside. Or how it has extensive studio space, with computer music workstations, band practice rooms, rehearsal space for dance and theater, a radio station, video production facilities, and more, all available to Roundhouse members (it's not expensive to join) and to kids from local schools.
For some of their past classical programming, go here. Or, even better, watch some video promotion they did for it. You'll see new music, as well as classics — and if anyone wonders how standard classical pieces fit into all of this, just see how the video rises to a wild climax with a kick-ass excerpt from Beethoven's Seventh Symphony (part of the finale).
Seems to me there's something very right here. Classical music in a pop context — what could be more natural? That's how classical music functions (whether people in the classical music world like it or not) out in our culture. It's part of a music scene in which pop music dominates.
Our normal idea, I fear, is to keep classical music separate, and expect — if we only find the way to make it happen — a new, big, young, mainstream audience to flock to it. But how likely is that? We're asking people to enter a world that's not theirs.
Bring classical music into their world, though, and the proportions of nature are properly observed. They're coming, in this case, to the Roundhouse, where they already go. What could be more natural? I was there for part of a two-day festival of Mute Records bands, plus electronic music of other sorts. The place was packed. Graft classical music onto that, and you're putting in a space where it's more than likely to thrive.
I could add that the Roundhouse staff are serious about classical music. The director, Marcus Davey, has a long history as a classical music producer, and is married to an early-music cellist. When I talked to Marcus, and to Matthew Swann, the Roundhouse classical music producer, they didn't talk about classical music either as an outreach mission, or as an opportunity for more ticket sales. Instead, they talked with real excitement about the music and the musicians they wanted to bring to the place, and how excited their audience would be. I'd like to see that kind of excitement everywhere.