A worthy question — did Geraldine Farrar have screaming girl fans only because of her opera success, or because she was also a silent movie star?
I don't have any information that would help me answer that. But other divas had followings of excited women — for instance, Amelita Galli-Curci, the early 20th century coloratura, and (according to a 1940s piece in
Time
magazine) also Lily Pons, the glamorous coloratura of the mid-20th century. (See
my sidebar on the age of the audience
for documentation.)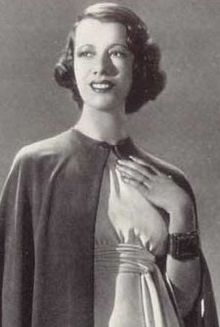 Pons made films, too, in the 1930s, but not successfully. To judge from the
Time piece
(which blows off her movies with one dismissive mention), she was famous for her opera stardom, her looks, her lively French personality, and her marriage to the famous pops conductor André Kostalanetz. Together they could draw crowds of 30,000 in Milwaukee (Wikipedia), and 300,000 in Chicago's Grant Park (
Time
).
But then there are so many other anecdotal reports of a young classical audience, including MIT students who snakedanced through the streets to go to Boston Pops concerts. That was early in the 20th century. By the 1930s, the college crowd at the Pops was more restrained. They'd go to concerts on dates, and demand the Brahms Academic Festival Overture, because it quotes a familiar student song. (Go here for documentation, from a 1940 book by Margaret Grant and Herman S. Hettinger, America's Symphony Orchestras and How They Are Supported.)