Shortly I'll resume my posts about culture (aka how classical music hasn't kept up with the rest of it). And I'll respond to some of the comments.
But here's something that struck me on Friday, when I was making my
last post
, about the
composition/conversation contest
hosted online by Southwestern University. (If you follow the link, scroll down to find out what the contest is, and how it works.) If you read the post, you'll remember that I got excited about a
video of a Hermann Prey performance
, in which the spirited and sensitive baritone — a fixture of my younger years in classical music — sings Schumann's song "Waldesgespr
ä
ch."
He's about as artistic (by which I mean responsive to the musical, poetic, dramatic, and pictorial truth of the song) as anyone could be, but he's also natural, direct, personal, unfussy.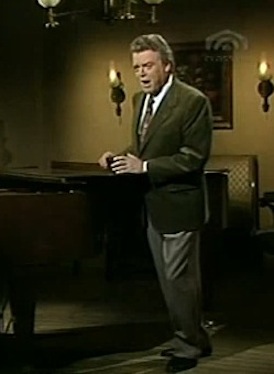 Or, to speak in what might seem like a paradox,
not
artistic, because he doesn't come off entirely like an artist. He seems just as much like a regular German guy. You can see him at a football game, or drinking beer with the guys. (A favorite occupation of his, in fact.)
I love this. And I think it's something classical music needs. Something it used to have, but which these days is harder to find. These days, so many classical music performances have a classical music aura, an implicit subtext — underlying, suffusing, permeating everything else that's going on — that says "this is classical music." With overtones of: "This is special. This is artistic. This is refined."
I found the Prey performance on an engaging YouTube page created for the composition context, in which people submit music that has an air of conversation. The Schumann song qualifies, because in it you hear the voices of more than one character (and Prey renders them all — especially the scary voice of the lorelei — with precision, and a kind of hair-raising but very simple delight).
On this page is also a poised, and very deft, performance of a familiar duet from Bach's "Wachet auf" cantata, one of those love duets between God and the soul that Bach could write with such complex simplicity. The YouTube page doesn't clearly say who's involved (just as the Prey page doesn't say who the pianist is), but I think it's a performance led by Ton Koopman, which certainly guarantees very high quality.
But the singing and the playing, pert as they are, also have that classical music aura —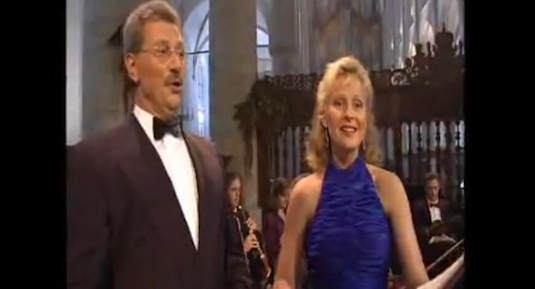 the extra layer of artiness, the self-consciousness of doing art, the sense that (to jump into a pop culture metaphor) not only are you a doctor, but you also play one on TV. I'll quickly say that this is very mild, that if Fischer-Dieskau or Richard Goode were involved it would be much stronger, that the performances is still in many ways relaxed, and that I can still find it delightful, even while I wish it were simpler and more direct.
Compare it with the Prey performance, and see what I mean:
And then, if you'd like a classical performance that's entirely authentic (except for the language it's sung in), but is about as far from classical music as we can get, watch Gino Bechi's huge (and vocally awe-inspiring) romp (in Italian) through the Toreador Song from Carmen, from a 1950 Italian movie. You can put this next to an Elvis video, and Bechi makes the earth move just about as much.