Left out, that is, in my "new spirit" post, about the new openness I sense about classical music, in our wider culture. This was the second of my "where we stand" series, updating some ongoing thoughts on the future of, and really — I blew it.
Yes, what I said about a new freedom in using classical music in commercials — that's all true. And it's important. But I should have mentioned two other signs of a new wind blowing.
One of them is Alex Ross's book. Here we have a serious book on classical music, and first, it's not stuffy or pompous, or written for insiders. It brings classical music — and its history, and its meaning, and its vitality, and, maybe best of all, a vivid taste of the reasons one person loves it — alive. And it got noticed, to put it mildly, by the outside world, named (just for instance) one of the best books of the year by all sorts of prominent media places.
And, best of all, bought by all kinds of nonspecialists. I'd love to know what they thought, how many read it to the end, how many then went out to sample the music that it talks about. In one case, someone I know, well, she didn't finish the book. But so what? There are books I don't finish, and what could be more natural, when anyone tries a book on something they haven't previously known about? Some stay the course, some don't.
But is she more likely to try classical music — or anyway 20th century classical music — than she might have been before? I'm sure of it. If she'd been flipping channels, and came across the Met's pretty stunning Salome, wouldn't she have been thrilled, and felt a shock of recognition?
Maestro
The second thing I forgot.was the BBC series Maestro — a reality show in which contestants tried to be conductors. Telecast last summer, on BBC2, and an enourmous success, musically as well as with viewers (and endless press comments.)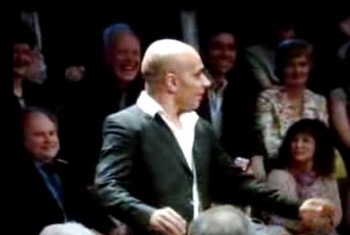 It hasn't been shown here, on BBC America, and sadly the video excerpts on the show's homepage won't play outside the UK. There are YouTube clips, though. I got the series on DVD from the BBC, and quite honestly, I was knocked out. In the first episode, the eight contestants — B-list (or below) celebrities, for instance David Soul, long ago of
Starsky and Hutch
— are given pieces to conduct, and get up in front of an orchestra with no preparation, to do their best.
Shown in the photo is Goldie, a British dance music guy, who doesn't read music. The orchestra was clearly told to plaly exactly what the contestants indicated, and the results were a revelation to anyone who wonders what, in fact, a conductor does. One of the contestants, the lead singer from Blur, had such unstable tempo that the players lurched, abruptly speeding up and slowing down, with a train wreck each time. And yes, a professional orchestra, in a concert, will keep time on its own, but here anyone could see what the conductor is supposed to contribute, and what the orchestra contends with if he/she doesn't do the job.
Then the contestants got five days' intensive training, involving (among other things) instruction on beat patterns, general tips on musical leadership, and movement training, to free their bodies. Then they tried again. They were better, but one, a veteran TV personality, was so hopeless that he was sent home. Goldie, who can't read music, was one of the two best, inspiring the orchestra to get excited (in "The Hall of the Mountain King," from Peer Gynt), even if his beat needed work.
The judges were a substantial group. Sir Roger Norrington, Simone Young (a major career in Europe and Australia, even if she doesn't conduct much in the US), a composer/cellist, and a bass player from an orchestra in Wales. They were lucid, lively, and often musically quite specific, so that even people who don't know classical music — or, for that matter, classical music fans who aren't tinsiders — could see what problems the aspiring conductors had.
Four judges: two men, two women. Which was yet another great thing about Maestro, though (which was terrific) not one word was said about it. Conducting wasn't just, or wasn't mainly, for boys. And, overall, classical music wasn't just for specialists. I don't think I've ever seen a presentation which so clearly showed how classical music works, so strongly gave tastes of why the music's wonderful, so vividly conveyed love of the music, and yet did so without ever, not for an instant, putting classical music inside a frame of stuffiness or Art.
In later episodes, the contestants led choral music, opera, many things. I saw Goldie — despite his musciality — get tripped up by upbeats in a Mozart aria (one of Despina's, from Cosi), and get called on it by the judges. (Though they might have been a little clearer in explaining what an upbeat is.) The winner (Sue Perkins, a British comedian) led a piece at one of the Proms concerts.
The show, for me, was a triumphant success, and yet another sign that a fresh new hopeful wind is blowing.