In the spirit of my "Disconnected in the past" post, here's an opera I'd like to write.
It would be based on a hardboiled thriller I've just read, The Money Shot, a piece of noir perfection by Christa Faust. This is the story of a former porn star, who now works as an agent for women in the sex industry and gets caught in the ripples from a truly ghastly business, run by people who import women from Eastern Europe and turn them into sex slaves.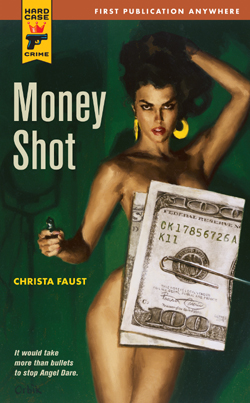 These people try to kill our heroine, whose (stage) name is Angel Dare, and whom we first meet left for dead in the trunk of an old car. She fights her way out, and embarks on a quest not only for justice, but for vengeance. That's in the best Mickey Spillane tradition (though to my delight I noticed that Faust is a big fan of Richard S. Prather, whose Shell Scott novels are a cult guilty pleasure from the '50s and the '60s).
The story gets darker as it goes along. Here (in my dreamed-of operatic version) is the second act finale. Angel Dare forces one of the baddies to dig his own grave, and just when he thinks she's going to bury him alive in it, she takes pity on him and shoots him in the head.
And here's the third act finale, the end of the opera. The chief bad guy, a truly vicious sort, is watching dancers in a low-rent strip club. Angel, in disguise (a big-hair wig), gets up on stage, announces that her (stage) name is Vendetta — nobody catches on — and dances to an AC/DC song about blood, driving the bad guy wild. He takes her to a back room. She ties him up and gags him. Then she frees some of his sex slaves, brings them to the back room, and gives them a straight razor, which, believe me, they know how to use.
Too violent for opera? Too horrible? Well, the opera world now is as genteel as it every was — more so, really, because at least in the past some of the divas were pretty wild in their personal lives. But how about the world outside opera? How about Quentin Tarantino's two Kill Bill films? Masterpieces, in my view. (Or really a single masterpiece in two parts.) But they make The Money Shot seem tame. If Kill Bill has a place in our world, and classical reflected all of our culture, then my opera would be possible. But as things stand, I don't think anyone would produce it.
If I'm wrong, let's talk! Though I don't think I'd ever get the rights to use the book. Certainly if I were Christa Faust, I'd never give them to an opera composer. I'd hold out for a movie sale, which seems entirely likely. Tarantino, are you listening?
One challenge in an operatic adaptation would be to find the right music. I couldn't use the AC/DC song, but wouldn't it be fun to write something that could stand in its place! I'd want to make a rock band the core of my orchestra, and I think I'd work with musicial sounds that start with a range of rock styles, roughly classic rock, punk, and metal. Probably I wouldn't write rock or punk or metal songs (except for the Vendetta climax), but there's no reason I couldn't write through-composed operatic music taking off from rock and punk and metal.
And what fun that would be. I wonder what the singing would be like. Maybe there wouldn't be any, or at any rate not much. But still the music would carry the continuity, which in my view makes the piece an opera, no matter what people sing or don't sing.
…maybe I'd have spoken dialogue, and the only singing (except for the finale) would be little shards of songs that flit through the characters' minds, and which they tonelessly sometimes sing…songs I'd write, of course…which means I'd need a lyricist…and some Romanian lyrics, for the rock song in Romanian the women sing when they're cutting up the bad guy…(they'd sing it offstage, because the final conclusion shows Angel freeing still more sex slaves, and then turning herself in to the police…so maybe in the opera's absolutely final scene, we'd hear the women singing more and more wildly in Romanian, and the guy screaming, while Angel turns herself in)…