I've talked many times here about performance practice in the past — how musicians used to change the music they played, and how they often improvised their changes.
We know that, of course, and the standard word for what they used to do is "ornamentation." What we don't often hear, though, is how extensive those changes used to be. So here's a striking example. It's a passage from the Almamiva-Figaro duet in the first act of The Barber of Seville, as sung by Manuel Garcia, the tenor who created the role of Count Almaviva. It was published years later in a book, The Art of Singing, by his son, Manuel Garcia, Jr., one of the most famous voice teachers in the 19th century.
Notice how free the ornamentation is, and how exuberant. And how the rhythmic notation at the end of the first measure and the start of the second can't possibly be exact. Garcia must have been really soaring at that point, singing things that notation can't really capture. Note also that Garcia Jr. cites this as an example of rubato, which in the 19th century meant that the soloist varied the written rhythm while the accompaniment stayed in tempo.
And now imagine an entire performance, full of changes like this. Then imagine going to hear the opera again with a different tenor, who'd make entirely different changes of his own. We don't have any experience like this today, and if I wanted to be fierce, I could say that we're falsifying the music, which Rossini wrote fully expecting all singers to make their own changes.
Here's what Garcia sang: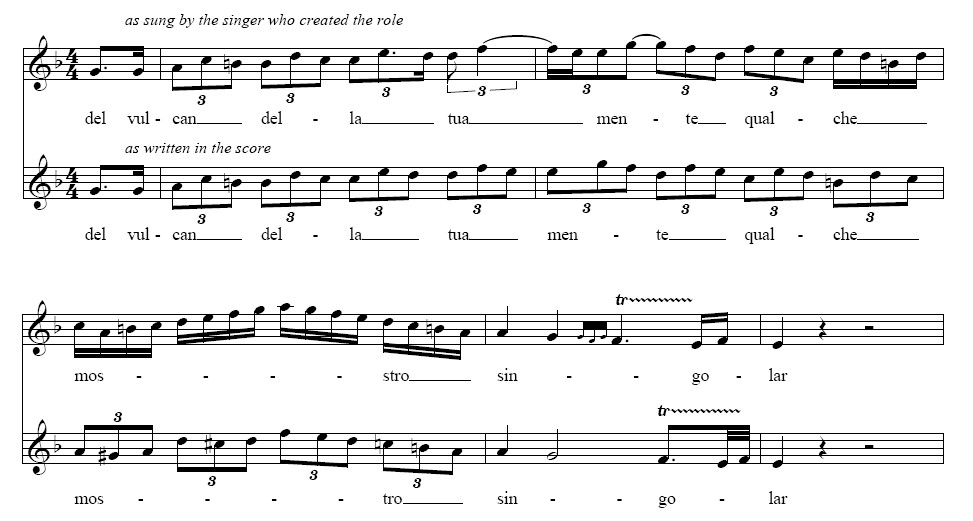 Footnotes: if we trust Garcia Jr.'s notation, the duet was sung transposed a tone down.
And I also should address something well known about Rossini, which is that at some point he got tired of singers making really bad changes — which of course happened — and started notating the exact ornaments he wanted them to sing. Yes, he did that. But it doesn't preclude changing what he wrote. For instance, he'll write the same highly ornamented passage twice in a row, knowing full well that nobody in the 19th century sang repeated passages without making changes.
So obviously he expected some changes. What he did, I think, was to limit the ballpark in which changes could be made, not forbid them entirely — which, as he would have known, was completely impossible. And also would have weakened performances, since one point of the changes was to take music written for one singer, and make it more suitable for others.
Here's an example. Rossini's wife, Isabella Colbran, was more comfortable, at least when she was with Rossini, in the lower part of her voice. So the role of Semiramide, which he wrote for her, is written very low. Another soprano, more comfortable in her higher range, would have said, in effect, "Well, there's no point in my singing that! It wouldn't sound good at all. So I'll rewrite it to go higher" — which (in our own time) is exactly what Joan Sutherland does in her performance of the big soprano aria from Semiramide on her recording The Art of the Prima Donna.