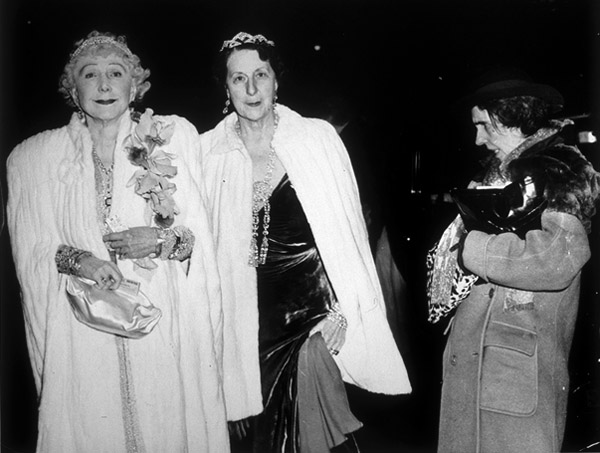 (A portion of a famous photograph by Weegee, showing society women on their way to the opening of the Metropolitan Opera season in 1943. Yet another example of formal dress of a kind we just don't see anymore in real life.)
First, the new comment system — I love it, love it. Comments go online without waiting for my approval. So they go up fast, many of you comment on the comments, conversations start. And I don't have to do anything at all. I don't have to take time to approve each one, and I'm freed from the temptation of adding my own replies, nearly every time. This is good for my schedule, and good for, oh, let's say my lightness of being.
Many thanks to the readers who suggested I adopt this system.
But, a question — would you all prefer that I commented on the comments more, as I used to? Yes? No? Tell me what you think.
And about the formal dress discussion — I loved that, too. Seems like you all covered a lot of ground, and that a lot of points of view were represented, very fairly.
One thing I noticed: some of us (me included) are very sure that our point of view is right. Or, maybe more precisely, that it's the most important point of view. People who like formal dress think concerts would suffer without it, and think that many others in the audience agree. People who don't like formal dress (me included) think it weakens concerts, and think it might keep (or at least help to keep) a new, young audience away.
The most fair conclusion I can come to, observing this, is that both sides are partly right. Both kinds of people really do exist, the ones who like formal dress and the ones who don't. What we don't know, as Rebecca wisely pointed out, whether formal dress really does keep any large number of people away.
I'd also add that we don't have numbers — we don't know how many people are attached to formal dress, how many people in the audience already (and among musicians) would like to see it go away, and how many people might be more likely to come to concerts if the dress was looser, less predictable, less formal, more fun.
And is either group growing? Is either group shrinking? Are there fewer people each year who demand formal dress, and more who want it over with? Is less formality the trend of the future, and formal dress a remnant of the past? I think that's true, but I don't have data. I can't prove it.
Yvonne is right — we have to be adaptable. This is one of many areas in which classical music might have to play both sides of the fence, at least for a while. We might need formal concerts for the people who want them, and less formal ones for other people. And I guess there should be studies of what people in the audience — or the prospective audience — might really want. Maybe studies like that already exist! If anyone has heard of any, please let me know.
But studies might not be accurate. That is, many people may never have seen a full orchestra, for instance, dressed informally, and therefore don't know how they'd really feel if they were hearing one. The study, in other words, might end up skewed toward favoring formality, just because too many people haven't experienced the alternative.
And new music, as Wendy noted, doesn't go well with formality. Bill, I think, implied something like that when he cited the Kronos Quartet as an ensemble that defines its brand — so to speak — and also supports its art by dressing in an individual way. Which reminds me that, as far as I know, very few chamber ensembles — and certainly very few made up of young musicians — dress formally for concerts. For new music, white tie and tails (and the women's equivalent) really doesn't seem to fit. Especially if a piece sounds and moves with echoes of pop culture, or is a happy or devastating assault of noise. What's the meaning then of tails? Irony wouldn't begin to be the word that might describe the disconnect.
Finally, I might note some successful ways I've seen ensembles dress. Way back in the 1960s I saw a performance of Stravinsky's Les Noces at Harvard, conducted by Leon Kirschner. The chorus wore black pants or skirts, and brightly colored t-shirts. I'd guess the choral singers picked their t-shirts independently. The look was festive and alive, perfect for the festive piece. (Well, OK, the piece lives partly in the Russia of centuries ago, and the t-shirts were very up to date American, but still they worked.)
And once I saw the Brooklyn Philharmonic, in a purely orchestral concert, featuring new music, dress similarly — black below the waist, colors above. But no t-shirts (if I remember accurately), and with more muted colors.
Finally, the Northern Sinfonia, the orchestra that serves the twin cities of Newcastle and Gateshead in England, dresses in informal spiffy black, not a jacket or a tie in sight. They play in a large modern concert hall, exactly the kind of space where most of us are used to seeing tails. When the musicians walked on stage, the hall came alive. They looked relaxed and happy, with no need, apparently, to invoke an atmosphere of sanctity, or any sense of the importance of what they were about to do.
In Britain, I can imagine, orchestras are more likely to be informal, because the musicians tend to be younger. (Orchestral pay is very low, so not so many people continue playing in orchestras as they grow older.) And for the Northern Sinfonia, it's a way of life. At the concert, I happened to be sitting next to the man who ran the arts center that includes the concert hall. He himself is informal — his trademark dress is a shirt with no jacket. He looked quite spiffy. I asked him if the orchestra always wore what they were wearing, and he said — very proudly, I thought — "Yes! They even dressed this way a month ago, when the Queen came to a concert."
Which again shows how very differently people can react to this issue.