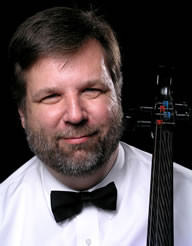 I can hardly say enough about Eric Edberg, a cellist and professor at the DePauw University School of Music. He's one of the people I've met through this blog (and through my online book), and he and I have been giving each other lots of encouragement. Among much else, he's writing an online book himself (which I've mentioned here before), about how important improvisation is — or should be — for classical music. It's important reading.
On August 30, he gave a quietly important concert. Well, maybe "quiet" is the wrong word; the concert was anything but that. This was an explosive event; by "quiet" I just meant that it wasn't publicized all over the country. It was a cello and piano recital, with the very fine (to judge from http://ericedberg.com/eric_edberg_recordings.htm recordings on Eric's website) Stephanie Gurga. And Eric, too, is pretty terrific.
This concert wasn't a normal classical event. But let Eric describe it himself. Here's the e-mail announcement he sent out:
Wednesday Aug. 30
7:30 PM Thompson Recital Hall in the PAC
The Romantic Cello: An Informal and Interactive Musical Event
Eric Edberg, cello and Stephanie Gurga, piano
featuring short, entertaining pieces
one hour max
performers in jeans
clap whenever you want
and dance in the aisles if you feel like it
Ever think classical concerts are too formal and have too many intimidating rules? Could one of the reasons classical audiences are growing older and smaller be that the whole stuffy ambience, in which newcomers are shamed if they do something natural like clap between movements or during a movement, be part of the problem? (Did you know that before the 20th century, audiences clapped between movements and even during them, and composers like Mozart encouraged it?)
Stephanie Gurga (a recent SoM grad and brilliant pianist) and I think so. So we're trying an experiment. To make the atmosphere unintimidating, we're going to dress very casually in Wednesday evening's recital. I'm wearing jeans.
And the usual rules of audience deportment are suspended for one night. Clap between movements (well, there's only one multi-movement piece). Clap after a good lick, or shout out an "amen" or a "boo." Dance in the aisles or in front of the stage.
I made a deal with my first-year seminar class (which is looking at the future of classical music): I'll wear jeans and make the concert as fun as possible if they'll bring someone new to classical music to the recital. So I'm making the same invitation to all you music majors. Our future as classical performers is dependent on getting young people to start coming to classical concerts again. Let's see if this helps.
Bring a friend who's not a classical concert-goer, and let them know they don't have to worry about clapping at the wrong time.
And the result? A huge crowd came, compared to the normal faculty recital. You can read more about it on the DePauw website, and on Eric's blog  (here, and  here).
Plus there's a video of part of the concert on the DePauw site, and many, many comments on Eric's blog from people who were there, plus one from the pianist. Very thoughtful comments, not all favorable; you read them, and you get a very clear idea of how unusual an event like this is, in the classical music world, how tricky it can be to make the event work (or at least to please everybody with it), and how wonderfully valuable even the attempt is — not that I'd rank this as any kind of failure. People really did dance in the aisles, as you'll see in the video. You might also get the idea that the concert was complete chaos, but that's misleading. See Eric's own assessment, which is well worth reading. This is the last of the links I gave above, to his blog posts about the concert. Here's part of it:
So my experiment with this concert was not about a new way to experience music for people who already love classical music the way it is. It was about creating an experience for non-musicians in which they could experience classical music in an interactive way. One in which their aliveness would not be deadened, but enhanced. I always hope that an audience will leave a concert more alive than when they came. As this concert approached, I decided I wanted to remove all the fear, all the inhibition, and let whatever wanted to happen happen. How enlivening can we make it for the audience?
Sure, there were times in which the audience participation reminded me of all the carrying on many new college students do: no rules, so let's run wild, let's do it because we can. OK. But really, so what? As the concert went on, there was less and less of that, and I think if we have more events like this a new culture will develop.
This concert was not for the classical music lovers. The concert was for the people who don't go to classical concerts and came because this one was different. Who came because someone invited them.
So I asked my seminar class this morning what the friends they brought thought. "My friend said, 'Oh my god, it was absolutely orgasmic,'" one told us.
There's much more. It's all worth pondering. Many kudos to Eric and Stephanie Gurga for doing this, for bringing it off with such panache, and for getting so much attention for it.
Which leads to a question? Who else has done anything like this? One of my Juilliard students, years ago, tried to get people to clap during the music (if they felt like it), during her graduation recital, but with no luck. I got people clapping during Mozart's Paris Symphony at one of the Pittsburgh Symphony's now-defunct "Symphony with a Splash" concerts, just as the audience at the symphony's 18th-century premiere did. But surely others have done what Eric and Stephanie Gurga did, or something in at least the same direction. I'd love to hear about it!