Everyone should know about  MUSO, "the music magazine that rewrites the score," to quote its own line about itself. Or, more simply, "the magazine for the younger, more open-minded generation of classical music fans." It's smart, lively, and most of all, it looks and reads like a real magazine, not like a dowdy classical music ingroup publication, tarted up to look contemporary. (Not convincingly, of course.)
Here's one recent issue: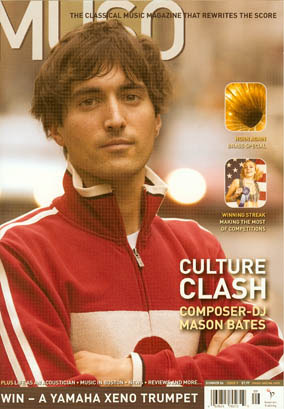 The cover boy is Mason Bates, a composer and electronica DJ (and former student of mine at Juilliard). And say what you like about the pretty-boy look (I joked that you'd think Mason was a soccer player competing right now in the World Cup), Mason is a serious composer, the real thing, enjoying real and much-deserved success. So here's a classical music magazine that, among much else, doesn't slight new music. Even puts it on the cover. And not just this time: Another issue I have put eighth blackbird on the cover.
MUSO is British, and just recently trying to succeed in the US. I wish them all the best. Their audience seems (to judge from the content, and, even more, from the ads) to be young classical musicians, but I'm sure they could broaden that. They've done something impressive. As I said, this is a real, completely contemporary magazine, which on top of everything else is completely serious about music. Bravo to everyone involved.