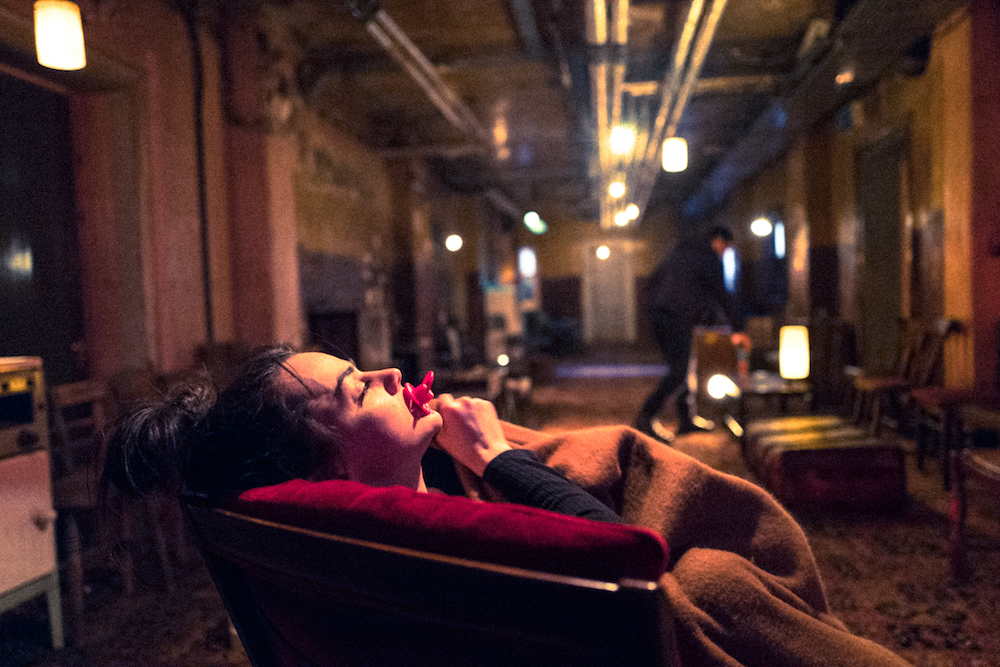 Philip Ridley is that rare writer whose work alternately snares decadent adult and innocent child. PG to certificate 18 with nothing in between. Poisoned fairytales, gangland raptures, quests for the hungry heart and avid imagination.
The Pitchfork Disney (1991) is an early Ridley play that marks his territory with alleycat assurance. Adult orphan twins, Presley and Haley (George Bagley and Hayley Squires), barricade themselves against the world, forays for chocolate and biscuits excepted. They nourish a post-apocalyptic fantasy that they're the only survivors of a nuclear armageddon. The fact that, in Jamie Lloyd's swaggering, shivery revival in the bowels of Shoreditch Town Hall, we're ranged along the walls of their low-ceilinged, fuggy corridor of a room makes us feel like shadows eavesdropping on their reclusive bond. Stories and ritual recriminations structure their day, which usually ends with a sleeping tablet and, if Haley's anxiety can't be soothed, a dummy steeped in sweet 'medicine' to pacify her into sleep.
Haley's syrupy slumber continues through the middle part of the play, in which Cosmo Disney – a pretty boy in a bobby-dazzler of a red sequined jacket – commands the space, turning Presley's head. Their conversation is a tongue-wrestle, sparring through a mutually-denied seduction. And all the while, curled under her blanket at the end of the room, Haley sleeps and sucks, sucks and sleeps, counterpoint to the more-than-quasi-sexual tension between the men.
Oh, that red dummy. In a play of whirling imagination, it makes sensation palpable. Imagine the squidge of it. The rubbery warmth of it. The soft fudgy bite, the bulbous mould for the lips. The slippery give of the dummy, the sugary drool around it. Maybe it gives you the creeps. Maybe it makes your mouth water. Maybe both.
Suck and sleep
Ridley's imaginative world is all about the oral. The twins' mouths stuffed with sweet sweet chocolate (orange for her, fruit'n'nut for him). Cosmo's perfect teeth crunching on a cockroach. Haley's mouth pacified by the dummy, invaded by Cosmo's cruel fingers. Mouths are greedy, moist and vulnerable. Mouths are dangerous – Cosmo's towering associate, a gimp-suited nightmare called Pitchfork, can use his maw, barely contained by his mask, as a raging weapon – he has no teeth but chewed a man's ear off.
Saccharine and strange objects enter mouths – but what comes out? Words. Words words words. Ridley's world is built on bravura language, a glittering spew of appliqué phrases, sweary aphorism, ritual exchange, tales-within-tales. It's an intoxicating listen, especially in Lloyd's irresistibly orchestrated production. The characters exist only as they speak, spinning their frets, firing off their defiantly-decorated boasts. If they're not speaking, like the drowsy Hayly, are they even real? No wonder the incoherent Pitchfork seems barely human, more like a chimera of fear itself.
Ridley's people talk and talk. And then they dream. Dummy in mouth, pulling brain-fogging syrup into their bloodstream, conjuring a haze of scares and longing. Suck and sleep. Sleep and suck.
Photo: Matt Humphrey
Follow David on Twitter – @mrdavidjays