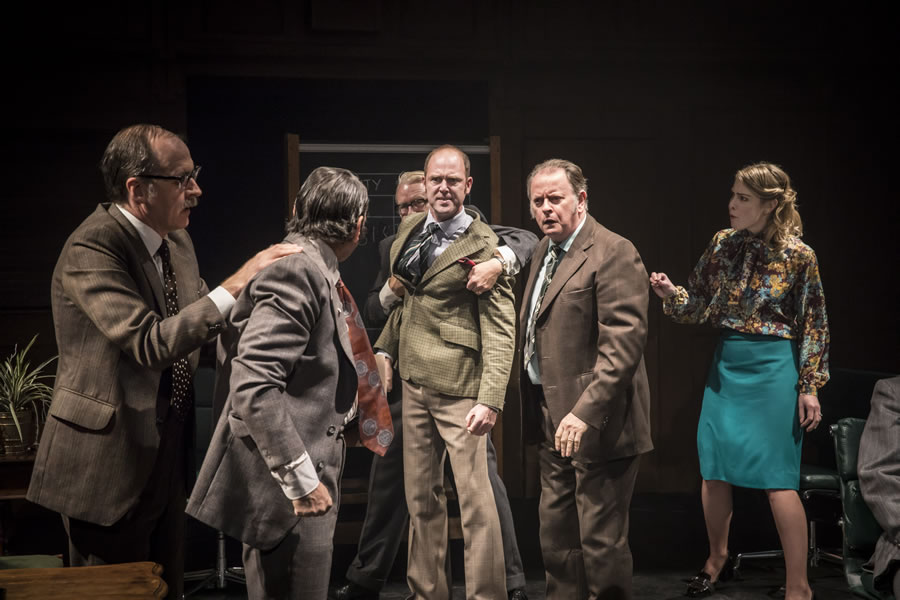 What's the point of Parliament? If you watched the BBC thriller Apple Tree Yard, you'll know it's to accommodate Emily Watson's illicit shag in the cellars, igniting a slow-burning fuse of suspicion and self-deceit. It might seem an undignified function for the mothership of democracy – but looking through our fingers at the real world, we see the British government demand a Parliamentary rubber stamp for its still withheld Brexit strategy (just as as US institutions are bypassed by the vicious stampede of executive orders from Trump and his ageing toddlers of doom). Fictional thriller or rolling-news farce? Either way, it was a good week to see This House.
James Graham's play premiered in 2012, alongside the fracturing coalition, and has kept its apt game strong ever since. Euro referendum, fuming Scots MPs, tottering party leaderships – checkity check. Seeing it this week – when a bill giving authority to trigger the official Brexit mechanism was passed by a majority of 372 votes, and when the Speaker of the Commons declared that President Trump should not be invited to address Parliament – was a reminder that ideas of iconography and inertia are far from heritage concerns.
The play is set during the 1970s – a decade of hung parliaments, minority governments, failed coalitions and the rise of a reinvigorated right wing. Quaint, huh. Graham, born in 1982, had to research this subject second hand – but Headlong's production, after playing at the National Theatre and on tour, winds up in the West End, attracting an older audience who murmured with recognition at florid figures like Michael Heseltine or Norman St John Stevas. The characters refers to MPs not by name, but by constituency – so as soon as 'Finchley' was mentioned, everyone of a certain age frissoned with the knowledge that this had been Thatcher's fiefdom.
This House, especially in Jeremy Herrin's staging, is entertaining (swears, banter), involving and cunningly deploys nods to past and present. But what picture does it paint of Britain's supposed engine of democracy? Overwhelmingly male (the female MP breast-feeding in the chamber causes a kerfuffle), class-bound (Tory toffs and Labour oiks are only just being nudged aside by the aspirational middle-class), hobbled by a heritage bureaucracy. Things have changed 40 years on, but dismayingly little.
Most troublingly, Graham depicts a politics drained of ideology. He accentuates this by setting the play in the whips' offices, among the officials in government and opposition devoted to wrangling their recalcitrant members. They do pragmatism, not passion – business, not belief. Ideologues are dangerously unbiddable – Sarah Woodward is wonderfully deadpan as the uncompromising Labour MP who won't tow a party line that conflicts with her constituents' interests. The whips like pole-climbing sheep whose ambition keeps them in line.
The ferment of industrial unrest, class realignment and an unsentimental new world order are only ripples in this play. The lights flicker, 'Finchley' moves from disregarded stalking horse to rampaging premier. The parliamentarians, meanwhile, swear and banter, plot and cajole, suffer wild-eyed nightmares in their spare time – and for what? Rae Smith's design is overseen by a projection of Big Ben – which, with bing-bong symbolism, runs down in the middle of the play, a mechanism stuck in stasis. The institution it looks down upon also appears like a machine devoted to its own continuance. Change may be coming, but not from within. Tick tock tick tock tick tock.
Follow David on Twitter: @mrdavidjays