« "You've got nowhere to run, Nutcracker!" | Main | The answer (or at least AN answer) to "Is Retro good?" »
June 17, 2007
Some Questions
by Moy Eng
For a girl whose life was very prescribed, after all, I was raised in a very traditional Chinese household, the opportunity to express feeling, an idea with total abandon was heady and thrilling. The arts, music in particular, became the safest place where I could try out who I wanted to be when I grew up: fierce, intelligent, passionate, fearless, honest and free.
And it is this deeply personal life experience that has driven my work as an artist, fundraiser, consultant and now grantmaker for many years. Making the arts experience and as a diverse array of arts experiences possible for everyone.
It manifests in various ways in my current position as the Performing Arts Program Director at The Hewlett Foundation.
In the multi-million investment in policy research and advocacy in arts education to make quality arts education part of every California school child's education. Our work to date has supported efforts influential in achieving the 2006/07 landmark allocations for arts education totalling over $600 million.
In our efforts to support creative, innovative ways to engage audiences: the three-year investment of $500,000 to seed tests of Concert Companion with major symphonies across the country and the $2.5 million grant for the Emmy Award-winning SPARK, a weekly series on Bay Area arts and culture on KQED: www.kqed.org/spark
In approximately $9 million in 23 cultural facility projects through the Bay Area, which will create over 500,000 square feet of new, affordable, and permanent rehearsal, performance and live/work space for performing artists. Most of the funding went to support centers which are not only artist-centered but community-centered such as ODC Dance Commons, Ninth Street Independent Film Center and Community School of Music and Art.
All of this, in addition to the more than $70 million for performing artists and arts organizations in the Bay Area in the past three years alone.
I'm reading with interest the questions and comments written so far. I ask again to the broader community.
What else should we foundation funders be thinking about to support increased engagement in arts and culture? Experiences, real-time and virtual, which encompass introductory ones to learning how to...dance, make a film, learn how to sing or play an instrument. The experiences which provide a place for reflection, for beauty, for fun, for creation, for spirituality and transformation.
Posted by meng at June 17, 2007 11:43 PM
COMMENTS
One cannot discuss the issue of arts participation (attendance, appreciation, engagement...) without talking about the level of education which, by all standards, has been rather abysmal in this country for over a generation. My father, who teaches European History at one of the best American universities, has recently given his history(!) majors a test to gage their general cultural awareness. In response to the question "What is cubism?" one of the students wrote "Cubism was the war between USA and Spain for the independence of Cuba." I suppose it is a "chicken-and-egg" sort of dilemma but one simply cannot ignore it.
Posted by: Nastya at June 18, 2007 9:50 AM
Post a comment
Tell A Friend
Resources
Engaging Art: The Next Great Transformation of America's Cultural Life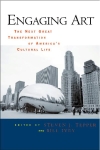 Abstracts more

Chapter downloads
Chapter 4
In & Out of the Dark - (a theory about audience behavior from Sophocles to spoken word)

Chapter 7
Artistic Expression in the age of Participatory Culture (How and Why Young People Create)

Chapter 8
Music, Mavens & Technology

(all chapters in pdf form)

MP3s


Vanessa Bertozzi on audiences and participation



Vanessa Bertozzi on involving artists in work



Steven Tepper argues the historical context of arts in America


Steven Tepper talks about technology and the future of cultural choice



Lynne Conner on the historical relationship between artist and audience


Lynne Conner on event and meaning and sports
AJ Blogs

AJBlogCentral | rss

culture
dance
media
music
publishing
visual

---
Special AJ Blogs