« Something Better Comes Along... | Main | So you think you can dance? »
June 13, 2007
So many changes, so many questions...
by Vanessa Bertozzi
I was struck by Doug's comment:

Indeed, some of the more interesting points in the book seem to argue that some of the ways we interacted with art in the 20th Century might be the anomaly rather than the time we're in now. We might, in fact, be returning to more traditional principles. Still, it's a scary time to be creating "content" of any sort. There isn't a creative industry that isn't seeing its business model being reinvented, the rules being changed.
What is the future of the arts--its place in our society, how it's funded, who participates--when boundaries between amateur and professional break down? When the rules of arts consumption change and business models break down? Do we have a meritocracy when it comes to deciding who gets heard and seen? Do we have a popularity contest? Or do we have a folk art?
Henry Jenkins' and my chapter in Engaging Art looks specifically at the ways in which today's young people interact with art and participate in fan cultures. We compare it to a time before mass-media, when an art being "grassroots" wasn't self-consciously trying to salvage something lost. Today see a very active and engaged generation coming up. But who will be a professional artist if changes in the way Americans create and access art continue along such a trajectory? What will our culture and way of life look like if the institutions and ways of doing business in the arts change radically?
What's the root of this feeling that something "scary" is happening at this particular moment? Perhaps it is that the financial mechanisms for the arts may be altered--the scary glimmers of bankruptcy. Or perhaps it is the fear of unknown degradation of a nuanced, sublime art, resulting in a corporate manufactured, homogenized, popular art. Perhaps these two things go hand in hand. Is there some other possibility? The changes are happening. I'd like to discuss roles supporters of the arts can play in making sure change can be something positive--and a little less scary.
Posted by vbertozzi at June 13, 2007 9:11 PM
COMMENTS
Post a comment
Tell A Friend
Resources
Engaging Art: The Next Great Transformation of America's Cultural Life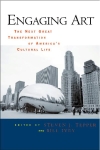 Abstracts more

Chapter downloads
Chapter 4
In & Out of the Dark - (a theory about audience behavior from Sophocles to spoken word)

Chapter 7
Artistic Expression in the age of Participatory Culture (How and Why Young People Create)

Chapter 8
Music, Mavens & Technology

(all chapters in pdf form)

MP3s


Vanessa Bertozzi on audiences and participation



Vanessa Bertozzi on involving artists in work



Steven Tepper argues the historical context of arts in America


Steven Tepper talks about technology and the future of cultural choice



Lynne Conner on the historical relationship between artist and audience


Lynne Conner on event and meaning and sports
AJ Blogs

AJBlogCentral | rss

culture
dance
media
music
publishing
visual

---
Special AJ Blogs