« Victorian Zombies & Opera Freaks | Main | New cultural divide? »
June 14, 2007
Response to "Something Better..."
by Laura Jackson
In response to Doug McLennan's post: Something Better Comes Along...
It might be helpful to distinguish between live artistic experience and the exposure to art and music through technological means.
Doug writes:
"Bringing art to the people is hardly the problem these days. The choices are overwhelming, and, just as cheap prints of great paintings and recordings of famous artists revolutionized people's relationship with music and art, so too is digital distribution transforming audiences' relationships with all artists and arts organizations."
He continues,
"If we can have whatever we want, however we want it, whenever we want it, perhaps we value the art we use in a different way. It becomes everyday, not special-for-company..."
I agree that digital distribution has a tremendous impact on us and connects us more deeply with artists and ensembles because we can listen repeatedly and become familiar with the nuances of their interpretation, phrasing, and quality of sound. However, I think the conclusion that having such easy access to "whatever we want" might lessen our perception of its value implies that a CD or a digital download of a piece of music gives us the same experience that a live performance offers. While I agree that one can have a profound experience listening to recorded music, I think it is different than the experience one has sitting with others in an audience experiencing the spontaneous interaction of a group of people realizing a work of art.
I would argue that our access to recorded music makes listeners want live performance even more. If a twenty year old has five CD's of their favorite rap star, they are probably going to knock themselves out to attend a live performance if the opportunity arises.
Posted by ljackson at June 14, 2007 10:38 PM
COMMENTS
Post a comment
Tell A Friend
Resources
Engaging Art: The Next Great Transformation of America's Cultural Life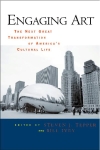 Abstracts more

Chapter downloads
Chapter 4
In & Out of the Dark - (a theory about audience behavior from Sophocles to spoken word)

Chapter 7
Artistic Expression in the age of Participatory Culture (How and Why Young People Create)

Chapter 8
Music, Mavens & Technology

(all chapters in pdf form)

MP3s


Vanessa Bertozzi on audiences and participation



Vanessa Bertozzi on involving artists in work



Steven Tepper argues the historical context of arts in America


Steven Tepper talks about technology and the future of cultural choice



Lynne Conner on the historical relationship between artist and audience


Lynne Conner on event and meaning and sports
AJ Blogs

AJBlogCentral | rss

culture
dance
media
music
publishing
visual

---
Special AJ Blogs