« The Infinitely Recordable Me | Main | Steampunks and the world we live in »
June 15, 2007
No just "reviving" art...
by Andrew Berryhill
Lawrence Kramer's New York Time's article was also one I found of great interest as an orchestra administrator (who like Robert mentioned in his piece) looks forward to a number of years of continued employment in this field. However I'd like to offer a slightly different take on Mr. Karmer's idea. I believe we are already, especially when we do our job's well, acting in some ways as the best museums do and doing so in a more challenging manner than just as a institution dedicated to "reviving" art.
We, like museums, we have a vital role to serve as the best curators of our art. When you visit a great museum, you usually only see a fraction of their collection at any one time. Similarly, at any given time, we in the orchestra business have out for public consumption only a fraction of our collection.
But the comparison also goes deeper. What sets great orchestras and museums apart from others is how well they present their collection for the public's consideration. What is the context? Monet and Manet created beautiful paintings and are often hung together. Similarly there are plenty of good reasons to play Beethoven and Brahms on the same concert. But don't we do our curatorial job a little better when we challenge our audience to think a little more? The Chicago Art Institute is currently presenting a show that explores the Islamic world's role as an intermediary between the East and West. It isn't just the presentation of the art itself, but the context of that presentation that makes this show compelling.
My orchestra here in far northern Minnesota just finished its concert season with a unabashedly exuberant staging of Porgy and Bess. It was insanely expensive and challenging for us to present, but even more wildly successful. And the reason we did it was because we loved the idea of presenting to our substantially homogeneous Scandinavian-descended audience the idea that Catfish Row had a compelling story worthy of their consideration. It was this juxtaposition of context that I believe made this show so special for us in Duluth (aside from the wonderful music!).
So in response to Mr. Kramer, I would say yes, we happily accept the challenge of engaging our audience with our art. And perhaps we've been doing it already for some time now and see it as more than just a practice of revival.
Posted by aberryhill at June 15, 2007 8:32 AM
COMMENTS
Post a comment
Tell A Friend
Resources
Engaging Art: The Next Great Transformation of America's Cultural Life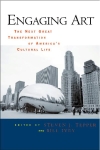 Abstracts more

Chapter downloads
Chapter 4
In & Out of the Dark - (a theory about audience behavior from Sophocles to spoken word)

Chapter 7
Artistic Expression in the age of Participatory Culture (How and Why Young People Create)

Chapter 8
Music, Mavens & Technology

(all chapters in pdf form)

MP3s


Vanessa Bertozzi on audiences and participation



Vanessa Bertozzi on involving artists in work



Steven Tepper argues the historical context of arts in America


Steven Tepper talks about technology and the future of cultural choice



Lynne Conner on the historical relationship between artist and audience


Lynne Conner on event and meaning and sports
AJ Blogs

AJBlogCentral | rss

culture
dance
media
music
publishing
visual

---
Special AJ Blogs