« Can't Stop, Won't Stop | Main | Ready, Set... »
June 21, 2007
Join us Today
by Douglas McLennan
Today we will try to take this conversation that we've been having online for the past week to a live audience. This afternoon (2-5 PM CDT) in Nashville, 600 delegrates to the American Symphony Orchestra League's annual conference will gather to hear presentations by authors of Engaging Art: The Next Great Transformation of America's Cultural Life and talk about the book's findings.
One of the things I like about these online conversations is that they're quite different from the kinds of exchanges that happen in live panels. Not better, but certainly different. So perhaps there's a way to continue this online conversation at the same time 600 of us gather in a ballroom.
What's Happening
Highlights from the past week on this blog will be projected on giant screens in the room while the audience gathers from 1:30-2. At 2 everything will go live. Molly Sheridan and I will be live-blogging right here, reporting on what's going on. You on the web are invited to submit comments or questions and we'll add them to the mix and project them on the screens (Tell us where you're writing from!). Attendees in Nashville have been asked to bring their laptops and they will have wireless access to the web. They can monitor this blog, look at the stream of comments , and file their own observations and questions to the blog.
The presenters onstage will have a monitor to see the online conversation and will be able to respond from the stage.We'll also be feeding moderator Steve Tepper a printout of questions and comments that he can draw on as the afternoon progresses.
This is obviously all a big experiment. It could be distracting for some in the room. And imagine being a speaker while behind you people in the audience are commenting on what you're saying. But it might also be an opportunity to add more layers to a discussion - a kind of "live hypertext", where those participating have an opportunity to follow their own ways through the event.
The bottom line is that if our topic is how audiences are changing the ways in which they engage in the arts, then maybe it's worth seeing if we can engage ourselves in a different way.
So please participate! Here's your opportunity to speak directly to the leaders of America's symphony orchestras and to see what others in the orchestra world are thinking. Click the "comments" link on this page between now and 5 PM CDT today and be heard!
Posted by mclennan at June 21, 2007 6:09 AM
COMMENTS
I can't participate in the discussion today, but I want to thank Douglas McLennan for this discussion and the many invaluable services he provides to the arts community. AJ has become an indispensable resource for so many people in the arts world. Thank you.
William Osborne

Posted by: William Osborne at June 21, 2007 11:16 AM
I very much like the idea of this type of hybrid of online and offline engagement - the problem is that without an audio or video feed, it's difficult for the online group to engage in the discussion in ways that will seem in sync with the offline presentation. Maybe next year...?
Posted by: Megan Holbrook, MSO Board Member at June 21, 2007 12:19 PM
If new audiences want to be co-authors, and if we feel that we should explore some new artisic models that provide this ability, we're going to need an entirely new dialog with our musician colleagues. Are our orchestra musicians willing to encourage co-creation?
Posted by: Karen Gahl-Mills at June 21, 2007 1:18 PM
Post a comment
Tell A Friend
Resources
Engaging Art: The Next Great Transformation of America's Cultural Life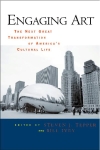 Abstracts more

Chapter downloads
Chapter 4
In & Out of the Dark - (a theory about audience behavior from Sophocles to spoken word)

Chapter 7
Artistic Expression in the age of Participatory Culture (How and Why Young People Create)

Chapter 8
Music, Mavens & Technology

(all chapters in pdf form)

MP3s


Vanessa Bertozzi on audiences and participation



Vanessa Bertozzi on involving artists in work



Steven Tepper argues the historical context of arts in America


Steven Tepper talks about technology and the future of cultural choice



Lynne Conner on the historical relationship between artist and audience


Lynne Conner on event and meaning and sports
AJ Blogs

AJBlogCentral | rss

culture
dance
media
music
publishing
visual

---
Special AJ Blogs