« New orchestras | Main | A paradigm shift? »
June 20, 2007
Factoring in the audience
by Greg Sandow
Ed, in his wonderfully wistful post, wonders what would have happened if orchestras had paid attention to their audience, back decades ago when they evolved their present funding, marketing, and administrative ways.
One reason they didn't do this, I suspect, is that they didn't have to. The Big Five, in those days, were selling 100% of their tickets! When that's happening, I can understand if you think your audience relationship is just fine, thank you.
I got this information from the private memo that management consultants from McKinsey wrote to the managements of the Big Five, after the company had been hired to study the serious financial crisis caused (in large part, anyway) by the 1960s expansion to the 52-week season, and the raise in musicians' pay. The 100% ticket sales were such an established fact that the writers of the memo simply took it for granted. When they wanted to calculate the annual revenue from ticket sales, they simply took the capacities of the halls, and multiplied by the number of concerts and the average ticket price.
Those wonderful, lost, unattainable years...another demonstration of how much things have changed.
(Though what if orchestras had looked at the world around them, at --in two words -- the Sixties, and wondered why they weren't reflecting the Summer of Love, or the civil rights movement? The Whitney Museum in New York currently features a show about the graphics of Summer of Love. But if any orchestra wanted to mount a festival of orchestral music that reflected the sound of the Summer of Love, this would have to be silent, because I don't think any such music exists.)
(Should we believe that Metropolitan Opera looked across the river to Brooklyn in 1947, when the Dodgers fielded the first black player in major league baseball? After all, the Met did finally put a black singer on stage -- eight years later...)
Posted by gsandow at June 20, 2007 11:09 AM
COMMENTS
Post a comment
Tell A Friend
Resources
Engaging Art: The Next Great Transformation of America's Cultural Life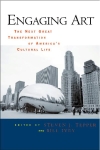 Abstracts more

Chapter downloads
Chapter 4
In & Out of the Dark - (a theory about audience behavior from Sophocles to spoken word)

Chapter 7
Artistic Expression in the age of Participatory Culture (How and Why Young People Create)

Chapter 8
Music, Mavens & Technology

(all chapters in pdf form)

MP3s


Vanessa Bertozzi on audiences and participation



Vanessa Bertozzi on involving artists in work



Steven Tepper argues the historical context of arts in America


Steven Tepper talks about technology and the future of cultural choice



Lynne Conner on the historical relationship between artist and audience


Lynne Conner on event and meaning and sports
AJ Blogs

AJBlogCentral | rss

culture
dance
media
music
publishing
visual

---
Special AJ Blogs