« Musicians and engagement | Main | Greetings from Nashville »
June 18, 2007
Can't Get it Anywhere Else
by Laura Jackson
I have trouble believing, as does Ken, that recorded/downloaded music might replace live performance. But Doug says he is in favor of live performance "when it works out", i.e. when you have a good acoustical seat and when you don't have someone coughing like crazy right beside you. In addition he asks, "what's the indisputable can't-get-anywhere-else ingredient of live performance I just have to have? Or (I worry), perhaps there isn't any such a thing?"
Robert Levine wrote in his post 6/17 that sports descend out of war and arts out of worship. Lets consider that comparison between art and worship for a moment. People gather at a church, synagogue, mosque or other house of worship and it plays a crucial function for them that is different than praying or performing rituals at home. There is something they seek - a community of people that have something in common, guidance and support, the opportunity to feel a part of a spiritual presence that is beyond themselves, and I am sure, many other things. They learn from others and offer support. Are churches in danger of closing their doors and becoming online experiences because people are more comfortable sitting at home where they don't have to deal with bad parking, an uncomfortable pew, or a baby crying in the row behind them? I doubt it.
Live performance is irreplaceable for the reason that it is interpersonal and because it requires us to be uniquely present and centered in order to create it and receive it. As Ken states in his response to Doug, multitasking is such a part of our nature now that we may listen to music often at home and while moving from one place to the next but we rarely do so without trying to accomplish five other things at the same time. I love to listen to the Saturday afternoon MET broadcasts but I have never sat through the entire radio broadcast giving it my entire attention.
As a performer, what I seek is to be part of something larger than myself. I want to transcend all of my personal limitations, my insecurities, self doubt, etc. and to touch some fragment of a larger truth. Certainly there are extremely powerful, solitary experiences of artistic creation - one can play the violin in one's living room and utterly lose him or herself in a transcendent experience.
However, live performance can only happen with the collective consciousness of a group of people, not unlike worship with others. A piece of orchestral music can't even begin without a whole group of people focusing on a common goal at precisely the same instant. This only accounts for the musicians onstage though. Why have anyone listen?
It is an audience that propels me toward my very best artistic immersion and without at least a few people to receive a performance I wouldn't be nearly as focused. It is exactly the challenge of captivating the person sitting in the dullest seat in the house, whose neighbor is unwrapping endless cough drops, or at least one child out of 300 in the hopeless acoustic of a gymnasium that forces me to get out of my own head and pull together every emotional, mental, physical resource I have toward the creation of a work of art. I may never succeed in connecting to every listener in the hall but the attempt makes me a better performer.
I don't think I am unique. This is what drives performers to do what they do. I guess my point is that, from my own experience, the performing arts reach their very best potential when they are received at the moment they are being generated. It is precisely your butt in your seat that makes my hands tremble and my breath quicken and inspires me to pull out all the stops in order to share with you this piece of music that has changed my life in some way and that might change yours.
Posted by ljackson at June 18, 2007 9:52 PM
COMMENTS
Post a comment
Tell A Friend
Resources
Engaging Art: The Next Great Transformation of America's Cultural Life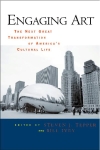 Abstracts more

Chapter downloads
Chapter 4
In & Out of the Dark - (a theory about audience behavior from Sophocles to spoken word)

Chapter 7
Artistic Expression in the age of Participatory Culture (How and Why Young People Create)

Chapter 8
Music, Mavens & Technology

(all chapters in pdf form)

MP3s


Vanessa Bertozzi on audiences and participation



Vanessa Bertozzi on involving artists in work



Steven Tepper argues the historical context of arts in America


Steven Tepper talks about technology and the future of cultural choice



Lynne Conner on the historical relationship between artist and audience


Lynne Conner on event and meaning and sports
AJ Blogs

AJBlogCentral | rss

culture
dance
media
music
publishing
visual

---
Special AJ Blogs