« Shaking Up the Ways of Working | Main | Brave New World »
June 17, 2007
Being There
by Ed Cambron
Robert Levine concluded one of his recent posts with the statement:
"And orchestras aren't visual experiences."
And Doug wrote regarding attendance at live pop events:
"I suspect the attraction of these events has more to do with having an encounter with someone famous or plugging into the energy of a crowd than it does an appreciation of music."
I could not disagree more. The reason the live concert experience will always be valuable is because it allows for audiences to have a unique, in the moment human connection. And it's not necessarily one of stargazing. An audience in a theater and the artists on the stage forge a relationship that exists in real time, with responsibilities and rewards of both parties. An audience shares their time with the musicians. They anticipate a representation of human expression, not just musical. That's a given. It's the subtleties of facial expression, body language, breath and style that offer a special opportunity for each audience member. It is the small moments of a live musical event that give an audience the gift of a true experience. The strict audiophile may dismiss the romance and importance of this living art in favor of an immaculately recorded work enjoyed in the privacy of one's home. But for those who venture out to a live concert, the last thing on their minds is how far the refrigerator is from their headphones.
The Knight Foundation was on to something a few years ago when they encouraged their Magic of Music grant participants to explore ways to make the concert experience more engaging, with an emphasis on visual enhancements. The projects didn't result in any permanently implemented features. I think the reason it didn't fly is that most experiments focused on adding visual elements instead of taking the visuals we already have and enhancing and exploiting them. I'm currently involved in some research to learn how audiences, new and traditional, react to live broadcasts. It's been fascinating to hear what really makes people feel like they are part of a live experience. And what I'm learning is that when you give a communal audience the ability to feel the human emotion, to see the expressions, they feel connected. It seems silly to say, but I think it's that simple. When you think about it, isn't that why film became the most powerful force in our culture? Remember the debate about video stores putting movie theaters out of business. It didn't happen. Why? Something in us yearns for communal, emotional experiences. Entertainment confirms, art questions, but the way we communicate to an audience and they way the take it in is the same.
Attending a concert is a shared experience. Right now a typical classical music concert may be a lot like church. People come together to share an emotional experience that many audience members refer to as spiritual. I'll never forget a concert I heard right after 9/11 when people came together to heal. They cried, they prayed, they used our music to bond. They lingered longer at the end of the evening, simply to be together. It was powerful stuff.
How do we enhance these emotional, visual, aural concert experiences we keep making? Maybe we should think about screens in the hall that augment what's occurring on stage. Perhaps conservatories should incorporate teaching musicians on how they're demeanor on stage plays some role in audience engagement. Yes, core audiences may bristle at these sorts of ideas, and reject anything outside of traditional presentation. But I've got a significant amount of research that suggests new audiences, especially younger ones, expect just such things in their concert experience. And we can do both. Robert is on to something when he stated:
"But, when we do build new halls, let's build them so that they provide an experience that's better than the iPod and not worse. Than means, in particular, that they should be small."
Not to be crude - but I can't resist - size does matter, but maybe what you can do with it matters even more.
Posted by ecambron at June 17, 2007 9:35 AM
COMMENTS
I'd like to provide some research-based support for Ed's Comment:
"Attending a concert is a shared experience. Right now a typical classical music concert may be a lot like church. People come together to share an emotional experience that many audience members refer to as spiritual"
One of the findings of the American Symphony Orchestra League's 2001 Audience Motivation Research study was that, at its best, a live orchestra concert is "an intensley personal experience, shared with others."
One of the secrets of engagement may be creating intensley personal experiences that can be shared with many others.
Jack McAuliffe, President, Engaged Audiences LLC
Posted by: Jack McAuliffe at June 17, 2007 10:55 AM
Post a comment
Tell A Friend
Resources
Engaging Art: The Next Great Transformation of America's Cultural Life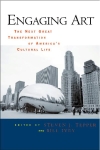 Abstracts more

Chapter downloads
Chapter 4
In & Out of the Dark - (a theory about audience behavior from Sophocles to spoken word)

Chapter 7
Artistic Expression in the age of Participatory Culture (How and Why Young People Create)

Chapter 8
Music, Mavens & Technology

(all chapters in pdf form)

MP3s


Vanessa Bertozzi on audiences and participation



Vanessa Bertozzi on involving artists in work



Steven Tepper argues the historical context of arts in America


Steven Tepper talks about technology and the future of cultural choice



Lynne Conner on the historical relationship between artist and audience


Lynne Conner on event and meaning and sports
AJ Blogs

AJBlogCentral | rss

culture
dance
media
music
publishing
visual

---
Special AJ Blogs