« Brave New World | Main | Some Comments from Readers »
June 17, 2007
A question (or two) before Resurrection
by Robert Levine
Before I go off to work and Mahler's second symphony, I wanted to pose two thoughts for everyone else.
I. Is Retro good?
Much of the conversation about the state of American orchestras focuses on "bringing American orchestras into the 20th (or 21st) century." But look at Disneyland. They focus on bringing America back to 17th century Jamaica, or 18th century New Orleans, or 19th century Missouri. Look at baseball, and all the new retro ball parks.
Are we looking at this the wrong way? Should we be emphasizing how historic we are, rather than how cutting-edge? If so, how do we do that? Candles on the music stands? Unwashed musicians?

II. What about the rest of the world?
I hear that orchestras are booming in China. I don't know what's happening in Europe, but they seem to be holding their own. Is this relevant? European orchestras, at least, have to deal with some of the same competition (from iPods, the Internet, and steampunk) as do American orchestras? Does their experience tell us anything besides how nice it would be to get large checks from the government?

Posted by rlevine at June 17, 2007 11:28 AM
COMMENTS
Post a comment
Tell A Friend
Resources
Engaging Art: The Next Great Transformation of America's Cultural Life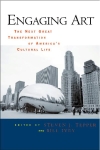 Abstracts more

Chapter downloads
Chapter 4
In & Out of the Dark - (a theory about audience behavior from Sophocles to spoken word)

Chapter 7
Artistic Expression in the age of Participatory Culture (How and Why Young People Create)

Chapter 8
Music, Mavens & Technology

(all chapters in pdf form)

MP3s


Vanessa Bertozzi on audiences and participation



Vanessa Bertozzi on involving artists in work



Steven Tepper argues the historical context of arts in America


Steven Tepper talks about technology and the future of cultural choice



Lynne Conner on the historical relationship between artist and audience


Lynne Conner on event and meaning and sports
AJ Blogs

AJBlogCentral | rss

culture
dance
media
music
publishing
visual

---
Special AJ Blogs