« A voice we should hear | Main | Venues and the audience experience »
June 16, 2007
A populist moment
by Greg Sandow
At a performance of Beethoven's Ninth by the Milwaukee Symphony, the bass soloist switched from German into English to acknowledge something in the outside world. At the end of his recitative in the last movement, he sang:
...sondern lasst uns angenehmere anstimmen, und freuden -- HAPPY MOTHER'S DAY!
The audience burst out in what sounded (I heard this on a recording) like wildly happy applause. What do we think of this?
I have to admit I thought it was cheesy. But it did break down the walls that separate most orchestra concerts from the rest of the walls -- something that wouldn't be worth noting, if it didn't so rarely happen.
Posted by gsandow at June 16, 2007 9:44 AM
COMMENTS
I was there, and the audience was indeed very happy. It was a cool moment, and it did bring audience and performers together in a way that I've seldom experienced at a non-pops concert.
Posted by: Robert at June 16, 2007 10:07 AM
Post a comment
Tell A Friend
Resources
Engaging Art: The Next Great Transformation of America's Cultural Life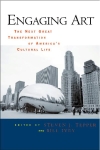 Abstracts more

Chapter downloads
Chapter 4
In & Out of the Dark - (a theory about audience behavior from Sophocles to spoken word)

Chapter 7
Artistic Expression in the age of Participatory Culture (How and Why Young People Create)

Chapter 8
Music, Mavens & Technology

(all chapters in pdf form)

MP3s


Vanessa Bertozzi on audiences and participation



Vanessa Bertozzi on involving artists in work



Steven Tepper argues the historical context of arts in America


Steven Tepper talks about technology and the future of cultural choice



Lynne Conner on the historical relationship between artist and audience


Lynne Conner on event and meaning and sports
AJ Blogs

AJBlogCentral | rss

culture
dance
media
music
publishing
visual

---
Special AJ Blogs