« This Is an Experiment | Main | Pictures »
June 21, 2007
2:30 p.m.
by Molly Sheridan
Jesse Rosen, executive vice president and managing director of the ASOL, welcomes the group with a perspective-setting anecdote about his son, who first asked for an iPod when he was just two years old. The message: Change is coming. Rosen points out that there's no "right" answer, however, and the role the League it taking is to get us all together to share ideas--both here in the room and with those of you reading online--for just this purpose.
Next up to the podium is Daniel Windham, director, arts programs, at The Wallace Foundation. That foundation is dedicated to making sure the arts belong to everyone, and so these types of conversations are very important to them. Where are the young people? Why are communities not participating in the arts in the same numbers that they used to? The Wallace foundation supported the book, Engaging Art, for precisely this reason.
Bill Ivey, director of the Curb Center for Art (among many other accolades) and co-editor of that book, welcomes us and notes the history of how Americans once experienced art--home pianos and drawing for pleasure. When player pianos made an appearance, passive art consumption began growing, and technology only expanded this trend in the following decades. It was a new era in the arts experience--professional artist and the average person consuming it. That expanded to an industry, with structures and funding that grew along with it. Attendance, is how we judged cultural consumption.
The opening years of the 21st century suggest that a large shift is on the horizon. The upcoming audiences are going to be made art makers themselves. It's an age of unprecedented cultural choice and be looking for curators. Audiences will want to participate in what the professional organizations seek to present to them.
Molly again: If you've ever been to a conference, you've probably attended one of those panel discussions that never seems to get going or you hope to make a comment or ask a question, only to have the moderator never get to you. Here, the crowd is already typing and getting ready to jump in.
Posted by msheridan at June 21, 2007 12:10 PM
COMMENTS
Post a comment
Tell A Friend
Resources
Engaging Art: The Next Great Transformation of America's Cultural Life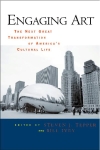 Abstracts more

Chapter downloads
Chapter 4
In & Out of the Dark - (a theory about audience behavior from Sophocles to spoken word)

Chapter 7
Artistic Expression in the age of Participatory Culture (How and Why Young People Create)

Chapter 8
Music, Mavens & Technology

(all chapters in pdf form)

MP3s


Vanessa Bertozzi on audiences and participation



Vanessa Bertozzi on involving artists in work



Steven Tepper argues the historical context of arts in America


Steven Tepper talks about technology and the future of cultural choice



Lynne Conner on the historical relationship between artist and audience


Lynne Conner on event and meaning and sports
AJ Blogs

AJBlogCentral | rss

culture
dance
media
music
publishing
visual

---
Special AJ Blogs