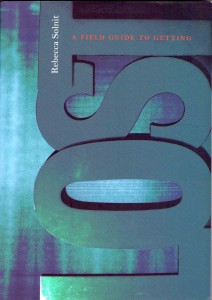 Leave the door open for the unknown, the door into the dark. That's where the most important things come from, where you yourself came from, and where you will go. Three years ago I was giving a workshop in the Rockies. A student came in bearing a quote from what she said was the pre-Socratic philosopher Meno. It read, "How will you go about finding that thing the nature of which is totally unknown to you?" I copied it down, and it has stayed with me since. … The question she carried struck me as the basic tactical question in life. The things we want are transformative, and we don't know or only think we know what is on the other side of that transformation. Love, wisdom, grace, inspiration — how do you go about finding these things that are in some ways about extending the boundaries of the self into unknown territory, about becoming someone else?       – Rebecca Solnit
If you have never read Rebecca Solnit's A Field Guide to Getting Lost, read it. It's a beautiful series of essays on the value of losing oneself in order to undergo transformation. The passage I've just quoted does a good job of conveying its essence and impetus. In week five of the beauty class we were joined by two special guests, Polly Carl, (who has been instrumental in my thinking about this course) and her partner, the fiction writer Lynette D'Amico, who designed a class session inspired by Solnit's book.
Polly Carl: On Getting Lost
Polly spent about 90 minutes introducing students to key ideas in Solnit's book and guiding them through a discussion on getting lost, anxiety, wandering, wondering, desire, and longing and how these relate to the creative process. She structured the lecture around a range of provocative questions she posed to the students, such as:
What would you like to become right now? We talk about who we are, but who would you like to become?
How do we "calculate the unforeseen"? When and how do we encounter that which we do not already know? When and how do we put ourselves on paths that will make this more likely?
Where do you feel longing? Where do you feel desire? Longing is the distance between where you are and where you long to be. The sensation of desire is beauty. How do we stay with the sensation of desire rather than seeking to accumulate stuff to fulfill the desire?
Do you have to be in the present to have any hope of getting lost—of putting yourself on the path of the unknown? If so, how do we stay in the present?
How often are you thinking about what you're not doing? (This was a question posed to Polly by a scientist when she participated in an NEA research symposium on creativity and the brain.) For example, how often are you checking social media when you are not in a position to respond to it (for instance, in the middle of class)?
If creativity lives in the space of being lost and in the ability to roam, is anxiety the opposite of creativity? Solnit talks about how explorers got lost all the time; however, the difference between explorers and the rest of us is that they approach getting lost with optimism. Has anxiety replaced optimism? How much anxiety do you feel about school, for instance? What would it mean to replace this with optimism and creativity?
How do others see you? When do you see yourself? How do we become lost to ourselves? Solnit tells us lost has two meanings: the familiar falling away and the unfamiliar appearing. Do we need to lose the sense of how we are perceived through the eyes of others in order to see ourselves more clearly?
In perhaps my favorite moment in the lecture, Polly talked about the following passage from Solnit's book:
The word 'lost' comes from the Old Norse los, meaning the disbanding of an army, and this origin suggests soldiers falling out of formation to go home, a truce with the wide world. I worry now that many people never disband their armies, never go beyond what they know. Advertising, alarmist news, technology, incessant busyness, and the design of public and private space conspire to make it so.
She then asked the class: What disbands your army?
The first student to raise her hand responded, "This beauty class disbands my army."
Others agreed.
Lynette D'Amico: On Story
Polly ended her lecture by telling the students about an experience (that she had with Lynette) of getting trapped underground in a NYC subway packed with people, without air conditioning or lights, on a blazing hot day. After a short break, Lynette then read the short story she eventually wrote, Fictions of the City, inspired by the subway fiasco. The point of this exercise was to examine how an artist takes an experience (in this case, one filled with tremendous anxiety) and shapes it into a story.
Lynette commented after reading her story to the students: Stories are how we make sense of the world and experience things that don't make sense to us. They are how we stand in the prsence of wonder and mystery. She then talked about the process she used to approach the project (among many things, her research on various aspects of subways in NYC and her desire to make a connection to The Great Gatsby).
Lynette then showed the William Kentridge video, Journey to the Moon, which she used as a catalyst to talk about what it means to live in a space of wonder and mystery. She also read a statement by Kentridge to the students: There is a desperation in all certainty. The category of political uncertainty, philosophical uncertainty, uncertainty of images is much closer to how the world is.
The students were asked to think about the possible meanings of various elements in the film in light of this statement.
Portfolio Assignment #1: Wander to Wonder
At the end of class, Lynette gave the students the following portfolio assignment:
Get lost and record the experience. The form of getting lost can be geographical or experiential. It could be going somewhere you've never been before, which can be a neighborhood, a park, a lake, a city, a building. It could be going to a restaurant and ordering a type of food you haven't had before. It could be going to a church. It could be going to a sports event. It could be going to an arts event. It could be doing something you've never done before, something you've been thinking about, or wanting to do, like trying a pilates class at your gym, or riding a city bus, or something spur of the moment and spontaneous, finding a roof top where you can watch the sun rise, or watching a foreign film. The parameters are that you have to go someplace where you don't already know the rules or the norms, and document your experience, and the documentation can be in a form of your choosing. You can write about the experience, take photos, send a series of texts to a buddy and then capture those texts.
Some studets went to restaurants, some wandered down streets in parts of town where they had never ventured, one walked into a small gallery on campus she had always been curious about, and more than a few ended up losing their smart phones for a day. Here's how student Lindsay Bloomfield documented her experience of losing her connection to her phone for a day.
No signal.

I lost my friend Siri yesterday. I lost my friends Chris Martin, Taylor Rice, and Kanye West whom I talk to almost everyday. I ached to hear my friend cry out "Turn left in 300 feet". But, it was quiet.

Silent.

Then I heard it. The faintest rustle of the trees. The deep bellowing of my breath. The laughs coming from an unknown place up the street.

Then I saw it. The blinding sun piercing across the vast sky. That night I saw the same sky splattered with perfectly sporadic specks.

Then I felt it. Above the ache for my simulated friends on my 5.44 x 2.64 screen, I was a present in the present. A gift of the hour. The hour, in turn, a gift to me. It was a symmetry I hadn't found before.

A peacefulness.
Portfolio Assignment #2: How to Listen to Music
In the last half hour of class I talked with the students about another portfolio assignment I had given them the week prior. I asked the students to watch a TED Talk by the renowned conductor, Michael Tilson Thomas, called Music and Emotion Through Time. I then asked them to sit quietly, do nothing, listen to a piece of music lasting at least 40 minutes, and document the experience.
A number of students commented after their classical music listening experience that they had never actually sat quietly and listened to a long piece of classical music from start to finish. Many also remarked on how soothing, clarifying, inspiring or energizing it was. Given our discussions about anxiety and the pressure that students feel in relationship to school and life, this struck me as rather meaningful.
Here's how one student, Brian Thue, documented how he felt after listening to Henryk Gorecki's Symphony of Sorrowful Songs.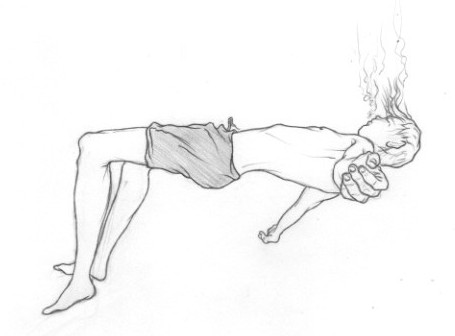 Nothing anxious here. If anything, the image is quite the opposite–both soulful and transcendent.
***
As I reflected on Solnit's gorgeous book and this equally gorgeous class session designed by Polly Carl and Lynette D'Amico, I thought:
This is the value of beauty in a business school. It requires that students "disband their armies" … "go beyond what they know" … "expand their boundaries." By sending them out into the world each week with assignments to get lost, sit quietly, really listen, look closely and then reflect on what they sense, feel, and think–they are not just learning a new (aesthetic) way of knowing the world, they are also encountering different parts of themselves. They are learning a different way of being in the world.