Before Michelangelo, Divine Draftsman & Designer leaves The Metropolitan Museum of Art in New York, here's a sweet little item from the show. It's about how he painted the ceiling of the Sistine Chapel, and it brings him down to earth. Jackson Pollock anyone?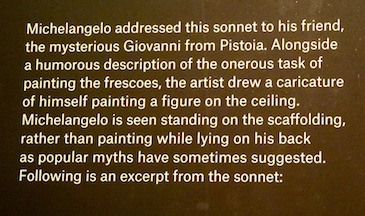 I've already grown a goiter from this torture,
Hunched up as foul water does to cats
in Lombardy
(or any other place)
My stomach's firmly squashed under my chin,
my beard's
Pointing at heaven, my brain's crushed with
force as in a casket,
My breast twists like a harpie's. My brush,
Above me all the time, drips paint,
Turning my face into a perfect drop cloth.
Translation adapted from James Saslow
the New York Review of Books,
and the Poetry Foundation.