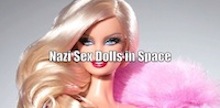 I am a doll. And yet, I've always caused a bit of a stir, starting with my debut as a teenage fashion model in a swimsuit in 1959. My creation was met with skepticism and judgment. […] Over time I've become an icon, and as with all icons, I've been pulled into the cultural conversation.
"My god! The strenuous exertions of this copywriter sweating blood to extract meaning from airy plastic nothings made me quite breathless. Now Barbie is a feminist? 'If you buy our super de luxe and cutting-edgy version and peel off her cosmetic surgery… lo and behold!. all this time…! Germaine Greer!' "
— Heathcote Williams
Today, truly anything is possible for a girl. Let us place no limitations on her dreams, and that includes being girly if she likes. It's easy to say the culprit is the color pink […] Pink isn't the problem.
… and so on and so forth. Haw.