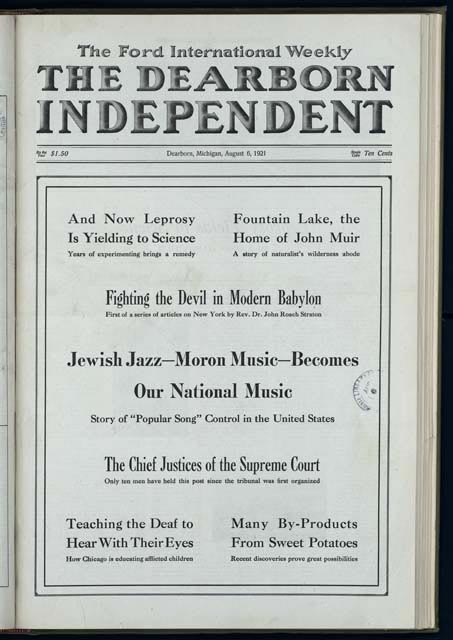 In my book Dvorak's Prophecy and the Vexed Fate of Black Classical Music, I call "an antipathy to jazz" one of the defining attributes of American classical music during the interwar decades. I've also written a lot about "the jazz threat." In the US, jazz bore a Black taint; it was linked to brothels and nightclubs; it was declasse. Henry Ford's notorious Dearborn Independent denounced jazz as a "morally filthy" alliance of crude African-Americans and clever Jewish "merchandizers." European-born composers more greatly esteemed jazz than their American colleagues.
All of this is the topic of my most recent "More than Music" NPR documentary [click to open]. I explore the jazz affinities of Maurice Ravel, Igor Stravinsky, and Paul Hindemith. Moving on to today, I cite the Swiss-born composer Daniel Schnyder, who achieves a bristling jazz/classical fusion without shortcuts. And I sample the jazz-infused performances of Schnyder on saxophone, pipa virtuoso Min Xiao-fen, and bass trombonist David Taylor.
Eventually, I ask Michael Dease if the jazz threat persists. An award-winning trombonist, Dease is white-passing though his mother is Black – so he finds himself eavesdropping on conversations bearing on music and race. His short answer is: yes – jazz remains more prestigious abroad. To hear his long answer, go to 39:00.
Wrapping up, I observe that a lot of what's being composed today sounds "makeshift" to my ears – a panoply of mixed musical genres and styles unsupported by a panoply of knowledge. "Especially in the US, the jazz threat we've been talking about compartmentalized music – classical versus popular, high versus low. Today's music, by comparison, eagerly squeezes the 'big [musical] sponge' Daniel Schnyder extols. The challenge is to squeeze the sponge in a really informed and considered way. The composers we've sampled all furnish lessons in doing precisely that. "
A nation's music anchors its identity. That America's music is formidably Black creates tensions that continue to stress the national fabric.
(Most of the performances here were recorded at last summer's Brevard Music Festival, supported by a "Music Unwound" grant from the NEH. The next Brevard NEH Music Unwound festival, next July, will be the first of four celebrating the sesquicentenary of Charles Ives.
A LISTENING GUIDE:
PART ONE:
00:00 — Hindemith's Symphonic Metamorphosis, with its jazz fugue
6:10 — Berlin's Comedian Harmonists sing Cole Porter
8:45 — Woody Herman's Bijou, an influence on . . .
10:30 — Stravinsky's Ebony Concerto
PART TWO
12:00 — A sublime "Blues" by Ravel
15:40 — Josephine Baker in Paris
16:50 — Paris as a refuge for Black American musicians
18:45 — Aaron Copland and Roy Harris on the limitations of jazz
21:00 — Ravel and Gershwin
25:00 — Ravel's jazzy piano concerto in G
PART THREE
30:15 — A fabulous Duo for saxophone and bass trombone by Daniel Schnyder
34:00 — David Taylor plays Schubert on his bass trombone
37:00 — Min Xiao-fen plays Thelonious Monk on her pipa
39:00 — Michael Dease on why jazz remains more prestigious abroad
47:00 — Schnyder's bass trombone concerto — an exemplary "musical sponge"