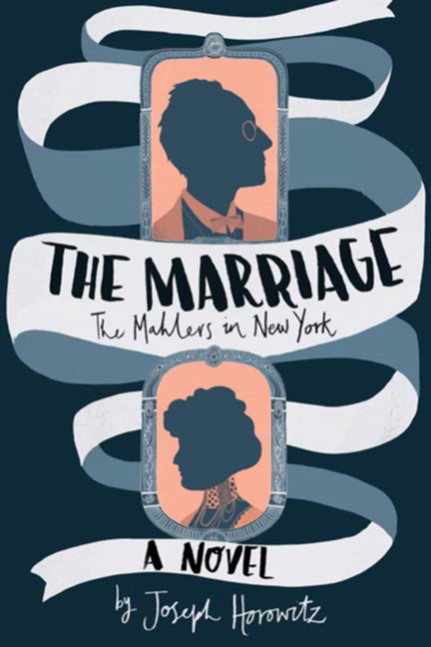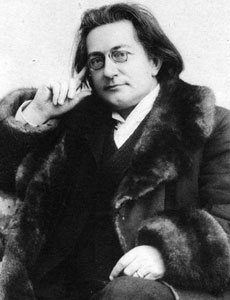 Yesterday – the publication date for my novel The Marriage: The Mahlers in New York – I had an enthralling video exchange with Morten Solvik of the Mahler Foundation in Vienna. You can see it here.
Some highlights:
3:24 – "You can't understand the story of Mahler in New York without first understanding what went on there before he arrived – something Mahler himself never understood. And this was noted and resented. . . When Henry Krehbiel called Mahler's American career a 'failure,' this was a comprehensible verdict." Mahler's New York predecessor Anton Seidl – who makes Krehbiel's verdict comprehensible – "was all the things that Mahler wasn't": an American citizen who summered in the Catskills, who befriended the American composer, who assumed a mantle of cultural leadership.
6:18 – Henry-Louis de La Grange, Mahler's most prominent, most copious biographer, came to graciously understand Seidl's significance  — "I took him aside and told him about Seidl. But he could never overcome his antipathy to Henry Krehbiel." The New York music critics, generally, were far more sagacious than de La Grange allowed. "Their reviews of Mahler the conductor retain credibility."
9:25 – Re: historical fiction: my first experiment was in my young readers' book Dvorak in America (2003). "I had acquired a very intimate relationship with Seidl" via the un-catalogued archives at Columbia University and the Brooklyn Historical Society , handling his letters, his memorabilia, even speeches written in pencil. "It was a bewitching experience." Evoking Seidl conversing with Dvorak at Fleischmann's Cafe, "I actually knew what he would say." I discovered that "I could learn things writing historical fiction, that it's a very special tool for the cultural historian. . . . In some ways The Marriage is more like 'creative non-fiction.' It hews closely to events that actually occurred."
10:07 – "My fundamental sense of Mahler is of someone who lives inside his head. There's nothing wrong with that if you're a composer – but it's not so great if you're the music director of an orchestra." Dvorak, in comparison, at all times absorbed his environment; it was "inevitable that he would write a New World symphony – and inconceivable that Mahler would do so. . . . He never researched American music. it was obvious that he hadn't done his homework."
18:00 – Mahler at the Met: his innovations – importing Alfred Roller's Fidelio production, treating Mozart as ensemble opera – were "striking, new, and successful – but ephemeral." "They didn't take."
25:00 – The Mahler sonority: "everything in your face, a flat perspective like a Klimt canvas, a new conception of symphonic sound."
30:00 – "People who write about Mahler in New York only see what happened just before he came – a period of institutional decline. . . . This is so poorly done." Also: virtually unnoticed is that Mahler never complained at about his orchestra at the Metropolitan Opera – "and that was the New York orchestra that most mattered, not the New York Philharmonic." Also unnoticed: New York City was regularly visited by the Boston Symphony Orchestra conducted by Arthur Nikisch. "That's a really high standard." A crucial factor was Henry Higginson, "a mind-boggling figure" who invented, owned, and operated the Boston Symphony. "You spend some time with Higginson – it's just humbling. . . . It's something that's unheard of today – a person of this stature running an orchestra." Compared to the New York Philharmonic's Mary Sheldon – "night and day." And Seidl, too, had a Higginson. This was Laura Langford, Brooklyn's leading impresario. "Something Mahler never had."
42:00 – Henry Krehbiel – "the elephant in the room," "the greatest figure in the history of American musical journalism." "You can't know Mahler in New York without knowing Henry Krehbiel – and Mahler's biographers don't know Henry Krehbiel."
49:00 – "Alma [Mahler] is someone who doesn't really know who she is or what she wants." In a new environment, unlike her husband [in his hotel room], she's "exploratory." She reveals herself "in juxtaposition with women more professionally accomplished than herself . . . when situated in a room with Olive Fremstad or Natalie Curtis."
1:05 – Snapshots: Mahler vs. Toscanini; Mahler and Ives
Anton Seidl is the core topic of my book "Wagner Nights: An American History" (1995).
My thanks to Morten Solvik, Thomas Hampson, and the Mahler Foundation. Stay tuned for Thomas Hampson reading from "The Marriage."