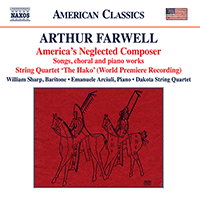 My most recent blog was yet another plea that the music of Arthur Farwell – America's most important cancelled concert composer – become known. I posted the world premiere recording of Farwell's amazing Hako String Quartet. In response, I have received an amazing comment from Curt Cacioppo. Since it's buried in the comments section of my blog, I'm reposting it here so that it has a blog of its own.
Cacioppo himself is a formidable American composer. A substantial portion of his output absorbs his profound knowledge of Native American music and ritual. Before he retired from Haverford, he annually taught a course titled "Social Justice: Native American Music and Belief" — a cause he has long and widely championed.
When I call Farwell "cancelled," perhaps I should produce a little evidence. There's a lot of it in my forthcoming book Dvorak's Prophecy and the Vexed Fate of Black Classical Music, in which I call Farwell "America's Forbidden Composer." Here, for instance, is one case in point, as cited in Dvorak's Prophecy:
"It is indeed 'a tricky thing' to advocate for Farwell today. One of the challenges is enlisting Native American participants. For [PostClassical Ensemble's 2019 'Native American Inspirations' Festival in D.C.], I unsuccessfully attempted to engage Native American scholars and musicians from as far away as Texas, New Mexico, and California. My greatest disappointment was the Smithsonian Museum of the American Indian, which declined to partner the festival [on the grounds that Farwell's music, featured alongside other works by Native and non-Native composers, lacked "authenticity"] even though it presented in concert the South Dakota Symphony's Lakota Music Project, brought to Washington at the invitation of PostClassical Ensemble."
And here is Curt Cacioppo's stirring commentary:
"America is a country unexcelled in neglecting its composers. So marginal is the value placed on the arts in general that Saul Bellow said, 'It is sheer madness to want to make art in America.' In the case of Farwell, even the visibility he achieved in his lifetime was due almost entirely to his personal dynamism rather than external approbation or appraisal. Though he is now reviled and lumped together with supremacist agents of white patriarchy, his ethical stance as an artist and citizen made him heretic among mainstream contemporaries. In that context, it could be argued that he assumed the role of a critical race theorist a century or more before the present trend. Aside from American indifference to the arts, questioning Manifest Destiny and 'the insatiable progress of our race,' as James Carleton had phrased it, echoing instead such sentiments as those expressed by Edward Wynkoop, who came to view Indians as 'superior beings,' certainly did not serve Farwell as a formula for recognition. (General Carleton, along with Kit Carson, led the seizure of Navajo lands in the mid-1860's; Major Wynkoop, who experienced a reversal of opinion regarding Indians, was writing about his encounter with Cheyenne representatives during the same period). Heir to a rapacious mindset that heard Sunday school teachers imparting to their youngsters indigenophobic rhymes, such as 'Kill them all, big and small – nits make lice!, Farwell should be credited for his model defense against the genocidal norm.
"Farwell acts out his humanitarian feelings most consequentially in his HAKO quartet. Compositionally his pinnacle achievement, it rises to capstone importance as the first major stride taken in American string quartet writing, both for its scope and its integrative processes. About 50 years ago I discovered the HAKO ceremony of the Pawnee, Farwell's source of inspiration, and have returned to study of it periodically ever since. Only very recently did I become acquainted with Farwell's quartet, thanks to the efforts of Joe Horowitz, although I had been well aware of other examples of his work previously. Before anything else, I have to say that without having fully explored the source material, one misses the majority of what Farwell has attained here, or contrariwise how he may have strayed. The transcription of the ceremony has been library accessible for 120 years. Hardcover came out 10 years ago for under $30, paperback under $15. You can read it on Kindle for less than $10.
"Bravi to Joe, the Dakota String Quartet, and all who made this premiere recording of Farwell's HAKO possible! The work is unique in so many ways. The risk that Farwell takes in stretching the single, sustained movement form to almost twice the duration of earlier one movement sonatas by Scriabin and Berg, for example, is in itself daring, especially considering the new music attention span of 1923. That aspect, if the listener stays with it, in itself can be engrossing. And the rhetorical pattern that Farwell establishes, drawn directly from the liturgical structure of the ceremony, of intimation answered by revelation, easily could elicit a sense of rapture. How the sonata scheme applies is another matter entirely, better reserved for a graduate theory seminar (my analysis reveals a binary structure or double exposition without an enclosed development section…)."