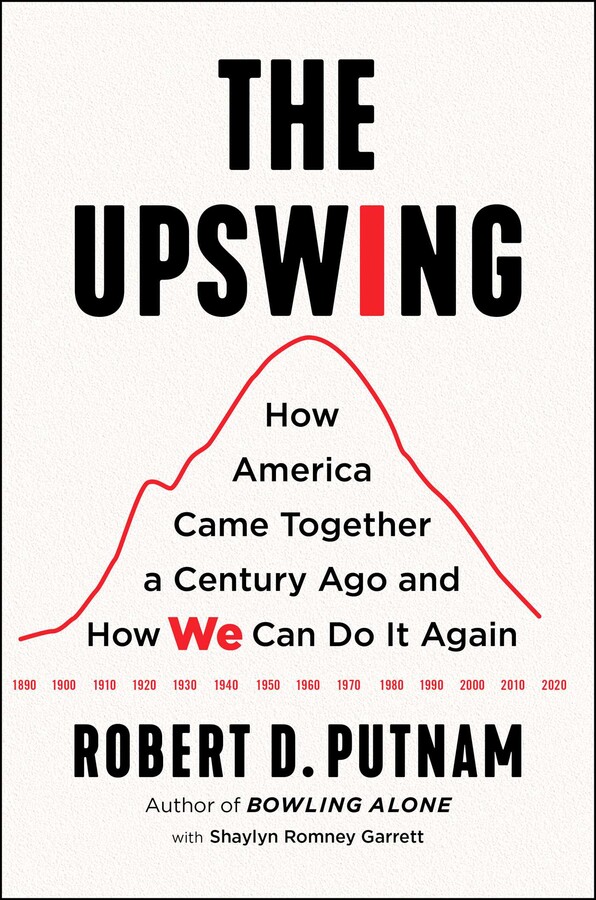 This week's The American Purpose carries another of my essays on the erasure of the arts from the American experience – how it happened and what to do about it. It's a sequel to my piece in the current American Scholar on the impact of the pandemic on culture.
My new piece takes the form of a response to The Upswing, the important new book co-authored by the sociologist Robert Putnam (who also wrote Bowling Alone) on the disappearance of "social capital." It's another way at looking at today's fragmentation of American life.
I write:
To me the most salient feature of The Upswing, the most surprising and disappointing, is incidental. In their consideration of how Americans bond or don't, [the authors] fail to consider novels and poems, concerts and plays, paintings and sculpture. Beethoven preached universal brotherhood with overwhelming eloquence. Cold War cultural diplomacy discovered the healing commonality of Tchaikovsky and Rachmaninoff. But there are no symphonies or concertos in The Upswing. . . .
In fact, I have the uncomfortable feeling that The Upswingmay partly be a symptom of the shortcomings it observes. And it is not alone. Another recent study of the American experience of wide importance is Jill Lepore's These Truths: A History of the United States. It's a marvelous read, entertaining, informative, provocative, elegantly turned – and yet wholly omits the arts. Could an 800-page, one-volume history of Germany do without Goethe or Beethoven? Could the history of Italy be told without Michelangelo and Verdi? Britain without Shakespeare? Spain without Cervantes? And yet Lepore's emphasis on the Black experience, so welcome and overdue, omits any reference to Black music; jazz and the Harlem Renaissance, Ellington and Armstrong, Marian Anderson and Paul Robeson are all silent. Absent, as well, are Whitman and Longfellow, Moby Dickand The Sound and the Fury, Huck Finn and Rhapsody in Blue, Hollywood and Broadway.
Is this perhaps a phenomenon of the left, rejecting "patriarchal" high culture? Apparently not. Ben Sasse's Them: Why We Hate Each Other – and How to Heal, by a Republican senator with an impressive intellectual bent, plausibly opines: "The problem is that our ever more ferocious political tribalism and mutual hatred don't originate in politics, so politics isn't going to heal them." Adducing the same torn fabric as Putnam and Garrett, he blames the digital age. He laments the diminishing pertinence of friends, church, and community. But I happen to be a stranger to Senator Sasse's world of church and picnics. I worry that religion may be as much a divisive as a binding factor in America's map of red versus blue. When I think about fostering a lost "sense of place," I think about shared American identity via shared history and culture (as did Willa Cather, whose formative frontier experiences in Senator Sasse's Nebraska included the Lieder and operas of German immigrants).
And now there is the pandemic to drive it all home. In European nations, "save our cultural institutions" is widely regarded as a necessary cause. In the US, the same cry is not heard. What is going on? Were the arts always a negligible component of the New World experience, insufficiently cultivated? Or did they become negligible? Are we as a nation simply too young to dig deep expressive roots? Too diverse? Too much crippled by our original sins of slavery and the Indian Wars? Is any of that pertinent to bowling alone?