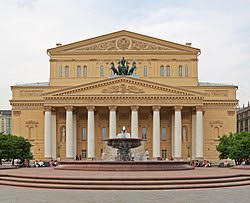 The formidable Norwegian soprano Lisa Davidsen, making her Metropolitan Opera debut in Tchaikovsky's Queen of Spades, is right now New York's most talked about opera singer. I caught the final performance in the run, on December 21 – and discovered myself mainly thinking about the Bolshoi Opera's historic four-week New York season of 1975.
The Bolshoi was a throwback to the days of ensemble opera – before airplanes. As of 1975 everything was still sung in Russian. Everyone more or less stayed put in Moscow, sharing and perpetuating inherited knowledge and tradition. I am referring not only to the singers, but to the conductors, the chorus, and – most especially – to the orchestra.
Prior to that visit, I had assumed that the pit acoustic of the Metropolitan Opera House was merely adequate. The Met orchestra projected clearly. The sound was reasonably transparent. Balances were often OK. But, even with Herbert von Karajan conducting Wagner, the too-big house seemed incapable of conveying orchestral timbres as ravishing as, say, the sound of the Vienna Philharmonic in its Staatsoper. And there was never enough bass.
Astonishingly, the Bolshoi orchestra projected a sonic kaleidoscope. There was plenty of bass. The winds and brass quivered with color (in 1975 Russian orchestras still favored lots of vibrato). The string choirs delivered coiled tonal wisps and torrential chordal sheets.
Years later, Valery Gergiev's Mariinski Theater Orchestra, visiting the Met, was – again – a bigger, more distinctive presence than the house band. It didn't sound at all like the Bolshoi Orchestra – its sonic signature was fuller, darker, less colorful, never delicate. These were orchestras with personalities. And they participated in the action as partners, not accompanists.
Pique Dame is an opera in which the orchestra is a full protagonist. It begins, in the pit, with signature Tchaikovsky: music of throbbing intensity, music that sounds hackneyed unless delivered with multi-hued intensity.  Hearing the Met players launch Pique Dame, conducted by Vasily Petrenko, was dispiriting. The orchestra warmed up after that, and Petrenko made a distinctly positive impression. But not once over the course of three acts did I hear anything like a true duet between singers and instrumentalists.
When I got home I discovered that, miraculously,  the Bolshoi Pique Dame – the one that came to New York – may be viewed in its entirety on youtube, filmed in live performance in Moscow in 1983.
If you want to hear what I am ranting about, go to 2:16:30: Tamara Milashkina singing Lisa's act three aria, with Yuri Simonov (who made a strong impression in New York) conducting. The orchestra's nuanced response to her initial introspection is empathetic. As her song gathers force, the sighing strings not only breathe, but feel with the singer. The final faint pizzicato is exquisitely calibrated. This kind of partnering is not produced by a mediating baton.
The Met once had such an orchestra, beginning in the 1880s — under Anton Seidl, Gustav Mahler, and Arturo Toscanini. I know, there are no recordings. (Lionel Mapleson's turn-of-the-century cylinders capture other conductors.) But Seidl – the leading Wagner conductor of his generation – testified that New York had more first-rate orchestral musicians than any European city. And Mahler and Toscanini, chronic complainers both, never complained about the caliber of the Met orchestra (as Mahler complained about the New York Philharmonic). When we can at last audition the Met orchestra on surviving radio broadcasts, it's still fundamentally an Italian band – the Toscanini imprint is indelible. This pit ensemble, gloriously maintained by Ettore Panizza (commanding the house's Italian wing) and Artur Bodanzky (the German), was an absolute powderkeg — nothing like it any longer exists. (Panizza called the Met orchestra the equal of the Vienna Philharmonic – a claim that could not be made today.)
Here is the greatest Otello in recorded sound – conducted by Panizza on February 12, 1938, with Giovanni Martinelli, Lawrence Tibbett, and Elisabeth Rethberg. You can sample "Dio mi potevi" here. To observe that the orchestra "knows the opera" isn't about the notes. Verdi is culturally kindred to these players: it's in their blood.
Here is the greatest Siegfried in recorded sound – conducted by Bodanzky on January 30, 1937. Don't expect the Vienna Philharmonic. This is eruptive, Italianate Wagner that sings. In Brunnhilde's Awakening, the strings' phased, surging ascent to "Heil dir, Sonne!", capped by a hair-trigger detonation, is unique in my experience. (Start at 2:57:00 and strap yourself in.)
I once had occasion to share this excerpt with my friend Alexander Toradze. Lexo is a distinguished product of the Moscow Conservatory. He regularly attended the Bolshoi in the 1970s. Hearing for the first time Kirsten Flagstad and Lauritz Melchior in their legendary Met collaboration, he exclaimed: "What an orchestra!"
For more on Bodanzky at the Met, click here.
For more on Bodanzky and Panizza at the Met, see my "Classical Music in America: A History of its Rise and Fall" (2005).