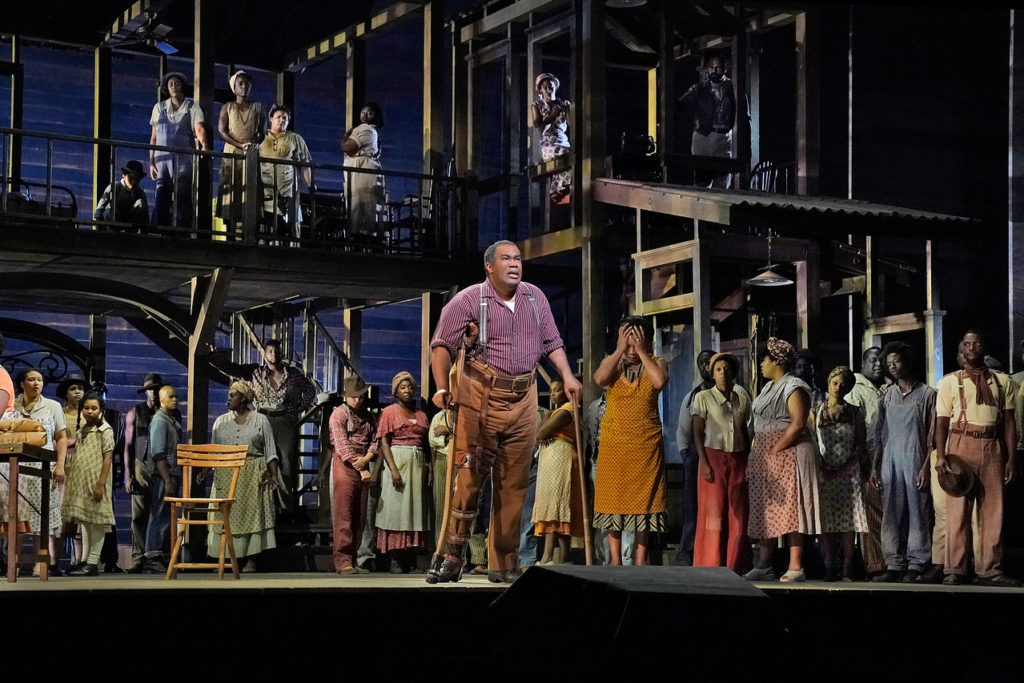 To read my review of the Met's new "Porgy and Bess," just posted online by "The American Scholar," click here. It begins:
That the Metropolitan Opera has opened its season with a fresh production of George Gershwin's Porgy and Bess is cause for celebration.
The Met came late to black America when in 1955 it engaged Marian Anderson to sing Verdi—she was already 57 years old. It came late to Porgy when in 1985 it mounted an earlier production—half a century after the opera's premiere. More than its predecessor, the Met's vigorous new staging manages to vindicate a controversial cultural landmark and seal its stature as the highest creative achievement in American classical music. New York's new Porgy is also cause for reflection and self-scrutiny. It must mean something that the most widely known American opera is a white composer's version of black American life. It has no finished form. Its reputation remains unsettled. It feeds on the fraught racial sensitivities of the current moment.
When Porgy and Bess was introduced in 1935, a prevalent response was: "What is it?" A second production, in 1941, reconceived the opera as musical theater with dialogue. It subsequently became best known for its songs. In the 1950s, the NAACP urged black artists to stay away from it. More recently, a boldly revisionist version, with Audra McDonald as Bess, aspired to add "dignity" to the main characters. At every stage in this saga, the accompanying discourse has been charged and ill-informed.
Several years ago, I found myself addressing a graduate seminar on 20th-century opera. I asked the students what Porgy and Bess was about. A black student volunteered: "It's about black Americans." Wrong, I said. Several months ago, when the Met's new production (shared with the English National Opera and the Dutch National Opera) was given in London, a prominent local critic called it a "period piece." Wrong again, I say.
My review ends:
Edward Johnson [the Met's General Manager in the thirties] found Porgy and Bess too black. James Baldwin considered it too white. Aaron Copland, Virgil Thomson, even Leonard Bernstein patronized Gershwin as something less than a "real composer." Today that tide has turned. The modernist view of Gershwin the gifted dilettante is no longer heard. A burgeoning interest in the interwar fate of black classical music will surely promote new understandings of Gershwin as a necessary interloper between "classical" and "popular" genres severed by 20th-century aesthetic currents. If a whiff of opprobrium remains—if Porgy and Bess is resisted for "stereotypes" that do and do not inhabit Catfish Row—Gershwin's opera will ever remain an inexhaustible American topic.
In retrospect, Porgy and Bess and the Metropolitan Opera have long needed one another. In 1935, Gershwin spurned Otto Kahn's invitation to stage Porgy at the Met. In 1938 Johnson declared the Met uninterested in George Gershwin. In the seventies, Schuyler Chapin envisioned a Porgy and Bess conducted by Leonard Bernstein. In 1985, James Levine finally brought Porgy into the big house, but the production floundered. This time the marriage seems real.
RELATED LINKS:
I audition my favorite Porgy and Bess recordings: https://www.wwfm.org/post/postclassical-explores-russian-gershwin-friday-night#stream/0
My Times Literary Supplement review of the American Repertoire Theatre's 2012 misproduction of Porgy and Bess: https://www.artsjournal.com/uq/2012/02/porgy-and-bess-writ-small.html