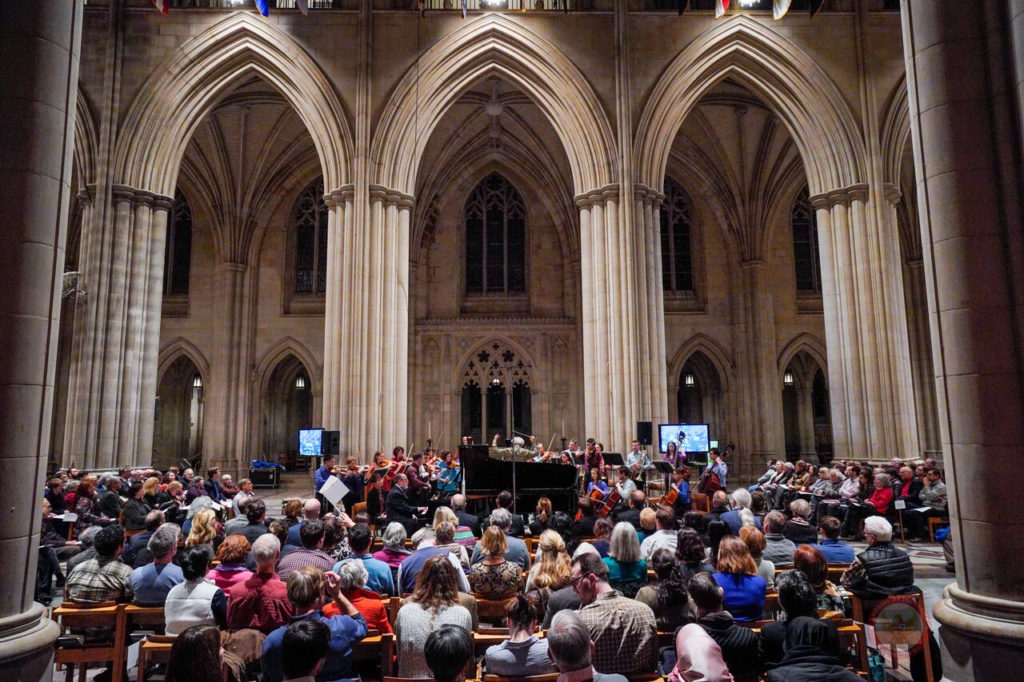 Eight years ago, on the occasion of PostClassical Ensemble's first performance of Lou Harrison's Piano Concerto with Benjamin Pasternack as soloist, I wrote in this space: "The music of Lou Harrison represents a rare opportunity for advocacy. To begin with, he is unquestionably a major late 20th-century composer, and yet little-known. Also, he is both highly accessible and stupendously original. And he is the composer of a Piano Concerto as formidable as any ever composed by an American."
Two weeks ago, PostClassical Ensemble reprised the Harrison concerto, again with Ben Pasternack, again with Angel Gil-Ordóñez conducting. The venue, this time, was the great nave of the Washington National Cathedral, where it's our good fortune to be Ensemble-in-Residence. The spiritual ambience, the resonant church acoustic redoubled the impact of this landmark American achievement. It is original, surprising, exalted. You don't have to take my word for it. Here's part of a review by Sudip Bose, the superb music critic (and managing editor) of The American Scholar:
"It was the piece I as most eager to hear, its opening movement as vast as a canyon . . . How could so magnificent a concerto be so woefully neglected? It's a question that could be asked of all of Harrison's music, which is in need of just this kind of evangelism."
I here offer some further thoughts on this 1985 work, which should be standard repertoire for every American orchestra of consequence.
The first movement is indeed a sonorous canyon, as vast as the American West. Compositionally, it's a technical tour de force: a terrific sonata form whose trajectory does not depend on directional harmony. Instead, Harrison uses rising scales and intensifying textures to drive toward a refulgent recapitulation. In our Pasternack/Gil-Ordóñez performance, that passage sounded like this:
The second movement is one of Harrison's "Stampede" scherzos — a tremendous moto perpetuo for the soloist, whose part includes a wooden "octave bar" for rapid-fire octave clusters on the black of white keys
The big third movement follows like a balm – it seals the concerto's majestic amplitude. This Largo is a hymn sung with such gravitas that the Adagio of Brahms' D minor Piano Concerto becomes a plausible point of reference. And yet Harrison's finale is not a big Brahmsian rondo but — another original touch — a mere codetta: an ending perfectly gauged.
The Harrison Piano Concerto was composed for Keith Jarrett, who made the best-known recording. Jarrett's keyboard command is miraculous, but his impersonality is an obstacle. No less than Pasternack, the Italian pianist Emanuele Arcuili (who plays more American piano music than any American ever has) is an inspired exponent of the Harrison concerto. It tells you some more about the piece that these readings – Jarrett, Arciuli, Pasternack – are utterly different from one another. In fact, the piano writing itself is so singular, so original, and yet so idiomatic as to invite a wide variety of voicings, pedaling, and rubatos.
I discovered this for myself when we undertook a five-minute filmed exegesis of the concerto's Javanese roots, with the Harrison scholar Bill Alves in charge. With the help of the Indonesian Embassy Javanese Gamelan, Bill showed how layered gamelan textures generate Harrison's layered keyboard textures – and I was the participating pianist. Here's the film clip, which we screened as an introduction to the Harrison concerto while the stage was being re-set.
And so this is yet another dimension of Lou Harrison's protean concerto – like so much of Harrison, it derives from his immersion in non-Western musical genres, Javanese gamelan in particular. This influence is profound: both atmospheric and compositional.
How to program such music? As PostClassical Ensemble is an "experimental orchestral laboratory," the Cathedral's great nave was reconfigured, with the orchestra in the center and (thanks to our indispensable partnership with the Indonesian Embassy) Javanese and Balinese gamelans at either end. Our three-hour concert told a story: how it is that, of all non-Western genres, Indonesian music has most influenced the Western tradition. The story begins with Debussy. It separately embraces Javanese and Balinese strands. It includes Ravel, Britten, Poulenc, Messiaen, Bartok, Reich – and also lesser known but vitally original composers like the Canadian Colin McPhee.
We began with Javanese music and dance, already playing as the audience entered the nave. Three dancers proceeded down the central aisle and froze in front of a piano – at which point Wan-Chi Su commenced Debussy's Pagodas. The remainder of the first half comprised piano and two-piano music by Ravel, McPhee, Messiaen, Poulenc, and Bill Alves. The intermission featured Balinese music and dance.
Part two was the Harrison concerto, preceded by an earlier Harrison composition: the Suite for violin, piano, and chamber orchestra. Here again, the Cathedral setting told. As I learned from Bill Alves, this 1951 Harrison composition coincided with his immersion in Christian mysticism. As the gamelan influence is already apparent, the Suite is sui generis. In their invaluable Lou Harrison: American Musical Maverick (2017), Bill and Brett Campbell call it "one of the most surpassingly beautiful American musical creations of the 1950s . . . [it] closes with a softly swaying, melancholy chorale that reaches as deep into the heart as anything Harrison ever wrote."
At our performance, the chorale was consecrated by stained-glass windows. Angel Gil-Ordóñez is a sovereign conductor of all and any slow-motion music. Our exceptional concertmaster, Nati Draiblate, was the violin soloist. It sounded like this:
Sudip Bose, in his American Scholarreview, memorably summarized: "These days, the word fusion . . . has become a cliché. But here was a vivid, persuasive argument in favor of embracing a fluid world culture. Works of the imagination should not be limited by borders, or by walls, and when art is born out of reverence, we the public should not be impeded by questions of ownership and accusations of appropriation. Not when the artworks in question move and enrich us all."
To which Bill Alves adds: "Lou's attitude was something he inherited from Henry Cowell – that everything in the world should be considered a legitimate influence. And Lou's idea was also part of his universalistic orientation. His advocacy of Esperanto is another example. In his book The Music Primer, Lou points out that drawing musical borders is an artificial process – that really music changes by degree as one crosses geographical borders around the world."
PostClassical music increasingly demands its own venues and formats. Its master prophet was Lou Harrison: an elusive yet iconic American original.
His time will come.
(Stay tuned for a "PostClassical" podcast on the WWFM Network with the complete Harrison Piano Concerto, as performed by PCE on January 23 at the Washington National Cathedral. For filmed excerpts from the concert, here is a vivid feature by Indonesian Voice of America.)