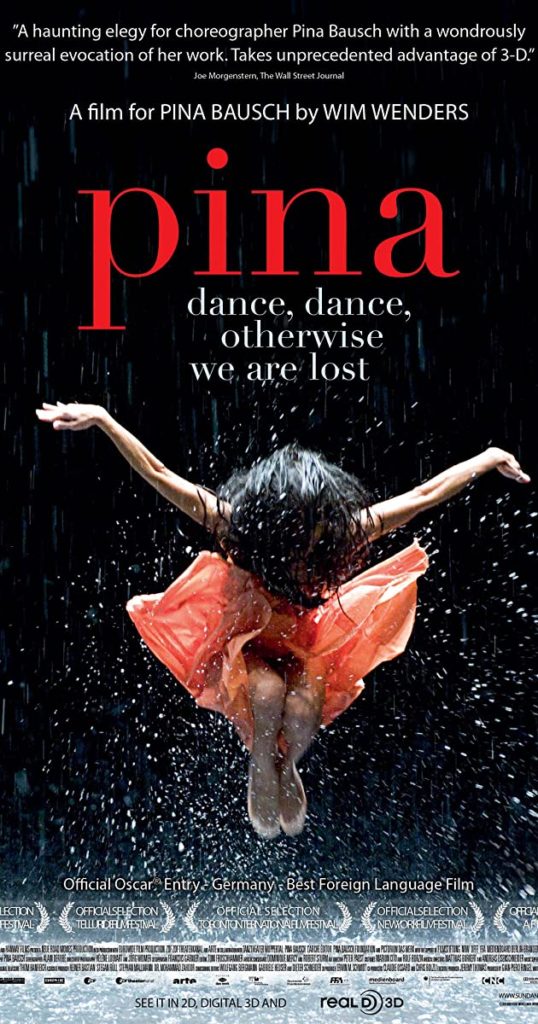 Watch Pina with Lockdown Theatre Club on Tuesday 21 April. Pina is available to rent on Amazon Prime. At 8pm everyone presses play and watches together. You can tweet along (#LockdownTheatreClub) or just enjoy the film knowing we're all part of an audience together.
What is Pina?
A documentary about the choreographer Pina Bausch, one of the most significant 20th-century artists, by Wim Wenders (Paris, Texas; Wings of Desire). Wenders had been planning a film with Bausch for years, but his 3D documentary only took shape after her death in 2009.
Who else is involved?
Bausch's extraordinary dancers, who made their lives and careers with her in the German town of Wuppertal. Their ideas and experiences are fully involved in the work, and many danced with her over decades.
Look out for?
Wuppertal's arresting townscape, an unlikely home for one of the world's great dance companies. Wenders films intense moments form Bausch's work in the downbeat town centre and woodland outskirts – and also on one of the glories of public transport, the schwebebahn: the upside-down suspended tram system.
Trailer
'A thirst for newness': Theo Clinkard introduces Pina
The British choreographer Theo Clinkard is one of the handful of artists to have made work for Bausch's company since her death. He introduces the film, the Tanztheater Wuppertal and Bausch's unique vision. (And read more about Theo's latest project here.)
'There's nothing left to say': Wim Wenders on Pina
I interviewed Wenders when Pina was released. He said explained that Bausch rejected any biographical content in the film. 'That was the rule of the game from the beginning; she kept her private life very secret, and rightfully so. Pina herself was not good at words – she was a very funny person in private, but actually never really managed to say much about her art. That's why it became a film that doesn't rely on language.'
He also described his first encounter with Bausch's work, when he saw Café Muller. 'I couldn't believe that somebody in 40 minutes was able to tell you more about men and women than the entire history of cinema. It still blows my mind… She created a true anthology of behaviour about the rejection and attraction between men and women. There's almost nothing left to say.'