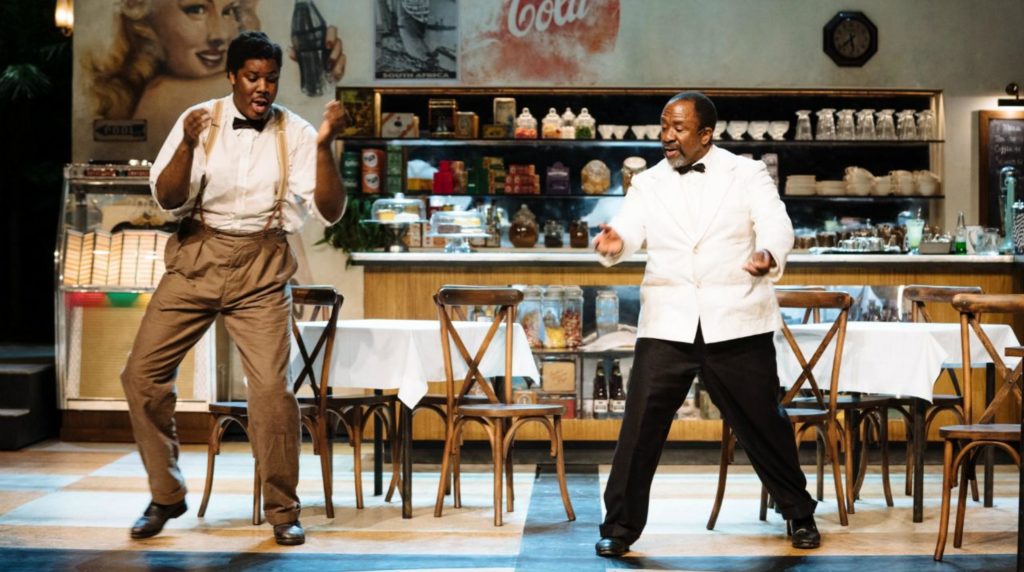 A jukebox offers choice upon choice. Dozens of records, stacked and ready for selection. Nestling between the palm court quartet and the corporate playlist, jukeboxes soundtracked café culture. Before the walkman, spotify and sodcasting, they let you decide your own mood music. Public yet personal, sweetly selfish – the jukebox flourished in the 1950s, the decade in which 'Master Harold'… and the boys is set. A box of delights, a cabinet of chrome and light and your favourite melodies.
Except. If you haven't got a coin for the jukebox, you don't get to choose. If you're saving your only sixpence for bus fare on a rain-pelted day, the jukebox stays silent, the record unspun. In apartheid South Africa, pop-picking white customers get priority. Choice isn't always yours to exercise.
Athol Fugard drew on his own South African childhood for 'Master Harold'… (1982). It's set in a Port Elizabeth tearoom, on an unbiddable afternoon which fractures the relationship between Hally, the white owners' teenaged son, and the black waiters Sam and Willy. For Fugard, itwas an excoriatingly personal piece. He too was called Hally as a boy; his mother ran a boarding house and then a tea room. The black servants who indulged him, who made him a kite, were real figures. So too the play's climactic humiliation: 'I spat in the face of a black man,' Fugard wrote in 1975. 'I cannot talk about it to this day.'
After Sam Semala was sacked by Fugard's mother, he became a dance teacher. In the play, Sam helps his colleague Willie hone his skills for a ballroom championship. In apartheid South Africa in 1950, it might seem deluded to even dream about a world of grace and romance, to even imagine that life is an equal contest where talent can shine: yet Sam and Willie protect tiny pockets of time in which the hope can settle. It's like, says Sam, 'being in a dream about a world in which accidents don't happen.'
During the play's opening dialogue, Willie sings an acapella version of Count Basie's 'You're the cream in my coffee'. At its close, the jukebox stirs to life, releasing Sarah Vaughan's 'Little man (you've had a busy day)' in all its sorrowful empathy. There's an irony in the jukebox offering South African audiences the work of African American musicians who routinely encountered racism and segregation in the States; Vaughan was even pelted with overripe fruit in a Chicago club. The word 'jukebox' itself comes from African American slang for a brothel or roadhouse. Yet America also represents a kind of imaginative possibility – Fugard's play premiered in New Haven after having been briefly banned in South Africa (it was produced in Johannesburg the following year).
The black American artists' music stubbornly gives voice to individual love and pain. For Sam and Willie, too, these songs carve a fragile private space out of a hostile public one. At the National Theatre, director Roy Alexander Weise and his team – notably Rajha Shakiry (designer), Paule Constable (lighting) and Shelley Maxwell, the peerless movement director from Equus – give perilous weight to these moments where the dream holds. The tearoom is not the most fashionable – its mural faded, its confectionery slumbering in the glass counter, its modest jukebox not the flashiest.
Yet human will can briefly achieve miracles. Lucian Msamati, who plays Sam, is a heroically authoritative actor, and his every movement is choreography – not a flicker wasted. Watchful, he defines stillness; in movement he adjusts a chair, places a tablecloth, with thrilling precision. And when he dances, he's as elegant and economical as Astaire – foot angled, hand flicking, soft-shoeing it between the tables. The smile may be an accessory, but you believe it while you see it.
Unsayable things are said during this play. Unspeakable things are done. Unbearable things are, somehow, borne. The tearoom, far from being a refuge from the viciously unjust society beyond, seems to be engulfed by those cruelties. Maybe there's no way back. And maybe there's something gloriously resolute in Willie sacrificing his bus-ride sixpence to fire up the jukebox, make its lights shine at long last, and joining Sam in an incongruous two-step (especially incongruous because Hammed Animashaun towers head, shoulders and then some above Msamati). Let's face the music and dance won't reform a structurally racist society. But holding the dream of a better world has its own dignity. That's a choice worth making.
Photo of Hammed Animashaun and Lucian Msamati, by Helen Murray.
Follow David on Twitter: @mrdavidjays