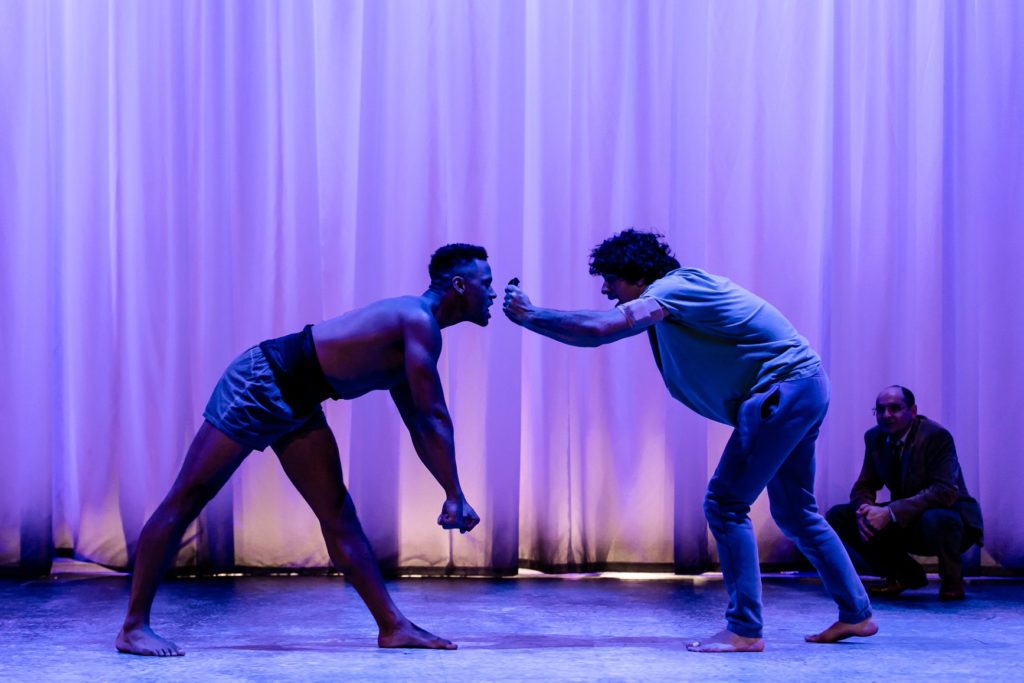 The most fascinating tool on the Swiss army knife was surely the curved implement designed for scraping stones out of horses' hooves. Undeniably practical yet destined to sulk unused in most urban lives. Except in Peter Shaffer's Equus, where it gleams forth to hideous effect.
Ned Bennett's galvanic production for English Touring Theatre and Stratford East sets it at the time of the 1973 premiere. As psychiatrist Martin Dysart (Zubin Varla) treats a teenage patient, Alan Strang (Ethan Kai) – teasing out the story of how Alan was enthralled by and then blinded the horses at a local stable – the production's props assemble like a toolkit of the 1970s and its discontents. So what's in the 1970s toolkit?
Cigarettes. In a 1970s production, they would probably go unremarked. In general, if characters didn't need their breath for Shakespeare or singing, they smoked. Everyone smoked, onstage and off. Harold Pinter puffed throughout his 1978 interview on tv's South Bank Show; 'there was so much smoke pouring up from the bottom of the screen,' wrote Clive James, 'that you began wondering if his trousers were on fire.'
These days, you clock it when Zubin Varla's mahogany-voiced psychiatrist repeatedly lights up, twitching at each ciggie in the chain, trailing ash around the consulting room and dropping his dogends in a perfectly 70s mug made of smoked glass. What was once everyday is now an alarm-bell pathology. In Georgia Lowe's cleverly austere design – a space surrounded by pleated white curtains, as if the action was under observation – it isn't only the patient that's under scrutiny, but also the profession that is supposedly returning him to accepted ways of being that may themselves be quietly toxic.
Hoover. In the halcyon days before Dyson, when Britain still made things and cleaned up the mess afterwards, every home had an upstanding vacuum cleaner. Noisy, bumpy, growling passive-aggressively over the shagpile. Perfect for Syreeta Kumar's don't-bother-listening-to-me-I'm-just-his-mother clatter as Alan's mum. She's deeply invested her son's wellbeing, yet as her husband starts to huff she reverts to chores. The 1970s were a decade of feminism, but for many liberation stretched no further than the hoover cord could reach.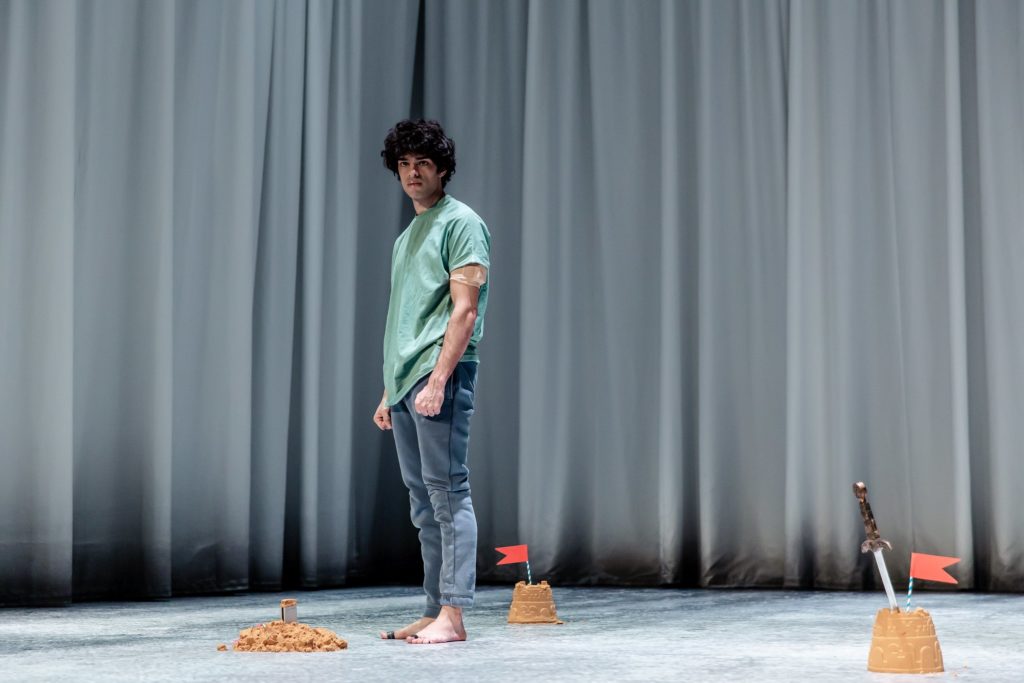 Sandcastles. A stretch of sand is a coastline, but sandcastles make it a beach. Holidays were measured in these devoted summertime constructions, whether ankle-high forts or crenelated wonders. Here, sandcastles bearing little paper flags whizz onto the stage, and immediately it's a summer holiday. They're innocent pleasure in Alan's boyhood, though he immediately puts away childish things when a young man canters up on a horse and offers him a ride. Alan is held in an erotic compact between adult man and sweat-steaming horse hide. The sandcastles capture a simplicity that he leaves behind, as he digs into the morass of adolescence.
Tape recorder. Ooh, technology. The 1970s bloody loved technology. Harold Wilson lauded the 'white heat of the technological revolution' in 1963, but cultural revolutions don't take hold immediately. They're more continuum than convulsion. We hear about the swinging sixties, but changes in British society only became embedded during the 1970s. Dysart gives the wary Alan a tape recorder to confide in. Fitting the livid mess of the boy's memories onto magnetic tape seems clinical. Dysart's hospital isn't a cruel place – but in the anxious ethos of Shaffer's drama, any intervention in emotion can seem harsh. He opposes Alan's flare of fantasy to Dysart's grey-toned compromises, just as in Amadeus he would contrast Mozart's knickers-to-the-wind genius with Salieri's mild dessert-based indulgences and polite facility.
Hoof pick. It's kinked, glinting. And sharp, so sharp. Fits in the hand, but capable of such screaming damage. It catches the light (Jessica Hung Han Yun's design often dunks the stage in unwholesome shades – queasy yellows, metallic pinks – but she knows when to let white light wince along this neat metal tool). Bennett keeps the entire electrifying evening on a knife edge; the device designed for scraping clean a hoof can cut into a flailing imagination.
All photos by The Other Richard
Follow David on Twitter: @mrdavidjays