12 variations on a prop
1 garage
There is stuff you expect to find in a garage. A car (an Audi, registration FE13 MXP). Metal shelving, peg board. Strip lighting that tints everything stark and queasy. A toolbox. Gaffer tape. An Amazon delivery box (there's always a swoosh-marked Amazon box). They're all here in Vicki Mortimer's design. There's also a strap-on.
2 set-up
The plot of Samuel Richardson's 1740 novel Pamela, serious and sensational, is one of harsh power play and desire quiveringly deferred. Young servant Pamela resists her employer's extreme harassment; eventually (when 'we have sufficiently tortur'd one another,' as he puts it) Mr B marries her. In Martin Crimp's contemporary response (subtitle: 12 Variations on Samuel Richardson's Pamela), an implicitly longtime couple (Cate Blanchett and Stephen Dillane) use this dynamic as roleplay. Are they dressing things up, or laying them bare? And why the strap-on?
3 marriage
Richardson's novel ends in marriage. Crimp's variations start with marriage, and end with it too. Marriage, a channel for sexual desire. Marriage, a conduit for property, a mechanism for reproduction, a guarantor against social shame. Marriage, a place to be bored over time. Marriage ends the story for Pamela and Mr B – after sufficient torture – but impels it for Crimp's couple, for whom the torture continues and must be retooled as conjugal desire. Marriage has boxed in their desire, so they try to release it. It's hard work. Eventually, they reach for the strap-on.
4 star
We had to enter a ballot even for the chance to buy a ticket for Sufficiently Tortured. Cate Blanchett's casting sharpens a drama exploring how to parlay sexual hunger. We're avid to watch her look bored, and it only adds to the furrowed-brow perversity to see a supernova play it sordid in an Audi. As someone tweeted after the first preview, I JUST SAW CATE BLANCHETT KISS A WOMAN AND WALK AROUND THE STAGE HALF NAKED WHILE WEARING A STRAP ON WTF.
5 script
Crimp's dialogue is super literate. Even if the couple haven't studied their lines by heart, they apparently improvise within strict confines. Long speeches, quickfire exchanges, the call and response of familiar antagonism. The published text doesn't prescribe their actions or delivery – and doesn't mention a strap-on.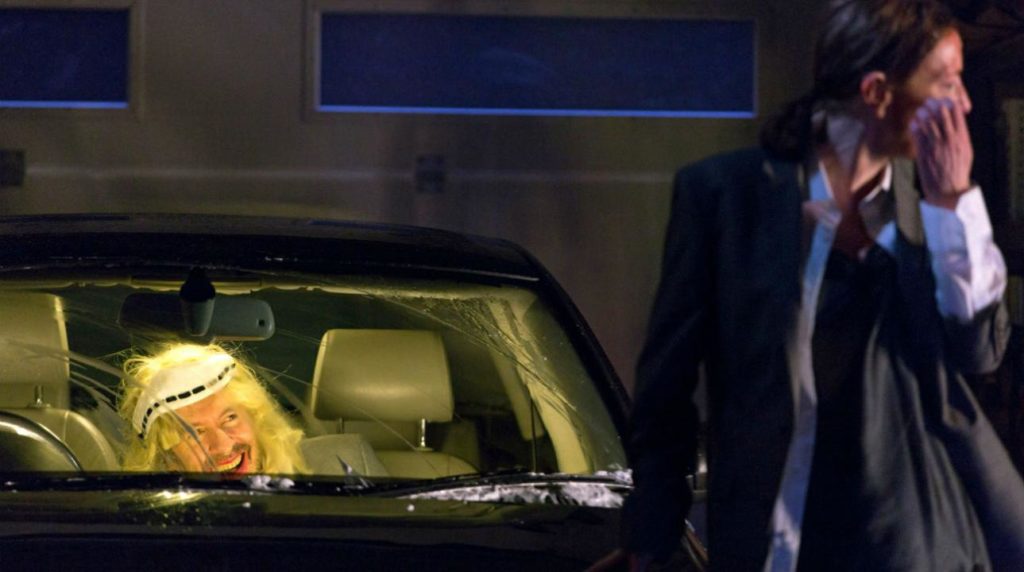 6 escorts
Watching a malcontented couple argue is almost as cringe as watching them flirt. No wonder the four people hired to assist this role play spend most of the night hugging the garage walls. They often look concerned, but they're pros, adept with costumes and scripted lines. None of them wears the strap-on.
7 writing
Pamela scribble scribble scribbles: Richardson's novel is a samizdat expression of selfhood. Pursued, confined, abused by her employer, still she writes – hiding letters in her chamber, sewing them inside her clothes. Blanchett's character tap tap taps, and her laptop is a site of conflict. Dillane's character accesses it and demands she take dictation, but it's still an expression of her free mind. Unlike the strap-on?
8 design
Vicki Mortimer's work with director Katie Mitchell maintains a stubborn realness amid its atmospheric density. Period furniture, real food, hard surfaces. Unflinching. The space for Sufficiently Tortured is especially unyielding – all sharp metal corners, brutal floor, metal doors. Even when they sit in the aspirational car, the couple register the press of steering wheel and gear stick. Nothing is easy, easeful, soft. Certainly not the strap-on.
9 gender
Gender is performance, sure. Femininity and masculinity: constructs of culture, prisms (prisons, even) for the psyche. Here they furnish costumes, attitudes, roles in power play. Man wears a sheen-grey suit; woman a blonde wig, fishnets and maid's outfit. The couple swap roles throughout. Dillane drills into a thoroughbred intensity, while Blanchett makes both voices satirical. A brilliant career in the key of too much – gauche, gangling, fierce – lets her heighten both girlish compliance and patriarchal swagger. Gender has never seemed more of a teasing masquerade. And then she takes the strap-on.
10 director
'Someone needs to let Katie Mitchell just make an actual porn film,' tweeted critic Helen Lewis, 'get it out of her system.' Mitchell's concern with how men and women negotiate desire framed the sometimes humiliating transactions in La maladie de la mort: it's a grim game in Sufficiently Tortured. In both, encounters offer a chance to rewrite the rules of the sexual contract, or to tighten them. Here, there's also a strap-on.
11 wedding dress
Blanchett's character is dressed, with luxuriant deliberation, in bridal clobber. Dress and petticoat, veil and stockings, all white and lacy. Spotless. Maybe Pamela's ascension from prisoner to chatelaine, from prey to princess, wraps up her story, but not this woman's. You reach a happy ending, then turn the page. Crimp's last scene is full of squabble, with domestic chores – cleaning, catering, childcare – representing the buzzkill battleground. Blanchett grasps for sexual release, domestic balance, even in her bridal rig. She buckles up the strap-on.
12 strap-on
And here it is. Incongruous but inevitable. Blanchett's buddy, the end of the line. A cast of the phallic principle, propping up desire. Prosaic, yet ready for anything you want to project on it. Behold, the strap-on.
Follow David on Twitter: @mrdavidjays