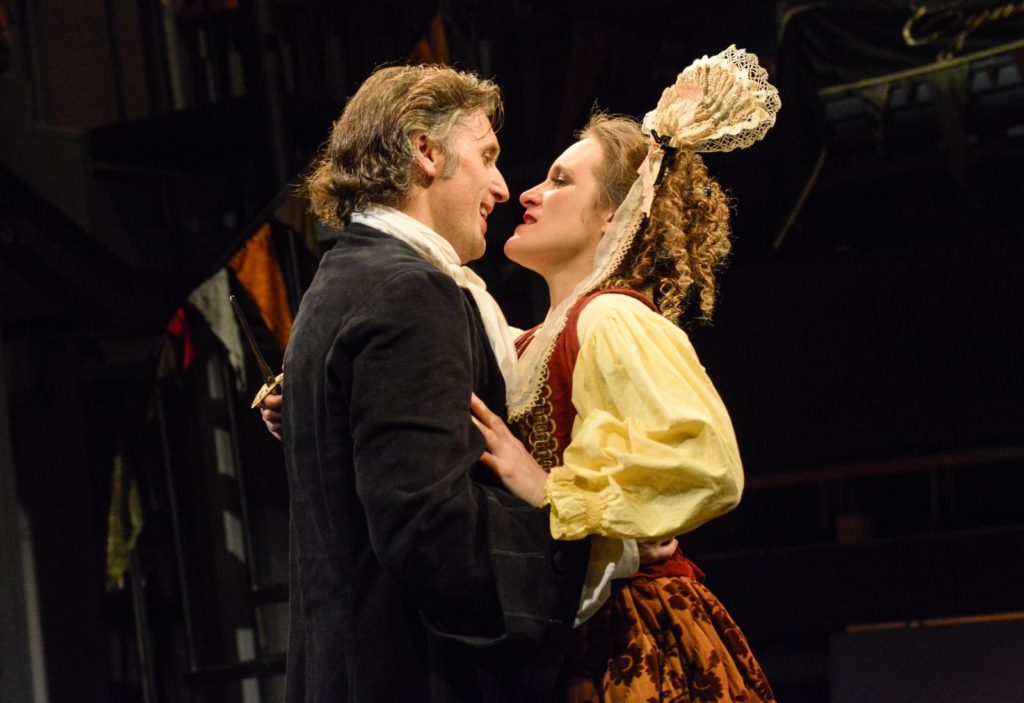 You know what to expect when people want to wave something about in a flirty Restoration comedy. Fan? Check. Snuff box? Check. Dagger. Wait, what?
The Double Dealer is a young writer's comedy that springily reinvents the rules. Restoration comedies are often tales of love and money, set in a contemporary London so precisely plotted that you could follow the action on Google Maps. But William Congreve's second play, written in 1694 when he was just 24, tests the rules of this wig-and-wink genre. Everything is questioned, compacted, almost abstracted.
Instead of fashionable London, we're in the country, at Lord Touchwood's house. Selina Cadell's production wittily places it near what was then the village of Richmond, close to the Orange Tree Theatre – all the text discloses is that St Albans is the nearest point of interest. Time is confined as tight as place: the scheming Maskwell plans to steal his friend Mellefont's bride and prospects, but needs to wrap it up quick, before anyone realises what's happening: three hours tops. In Congreve's final play, The Way of the World, you can calculate each character's bank balance to the nearest farthing. Here, people are vague about money, and the servants who eyeroll around most plots are barely present.
Working out a plan of the Touchwood manor would send you cross-eyed – the play gabbles about corridors, galleries, wardrobes and antechambers until it evokes a kind of Escher twistiness. Nobody comes, nobody goes – it's as if there's no exit to a wider world.

It's a young writer's play that tests the rules of this wig-and-wink genre
And then there's the dagger. The fan is the Restoration prop of choice, as Propwatch has noted – suited to a vigorous flutter or a rap on the knuckles if moved to extreme emotion. But a dagger? At the pointy end of the plot, it's brandished by Lady Touchwood, who refuses to behave as if she's in a comedy. Originally played by Elizabeth Barry, the strongest tragic actor of her day, Lady T is obsessed by Mellefont, her nephew by marriage, and is having an affair with his fake friend Maskwell. She's playing a dangerous game, partly because there's nothing playful about her – she's tempestuously serious, and ultimately doesn't care if she destroys her marriage and her reputation. When she leaps through her bedroom, blade out, it's clear that the rules of comedy are tottering.
Cadell's production – like her Love for Love at the RSC in 2015 – plays up the glorious phrasing and gestures to the self-conscious theatricality of 17th-century theatre. On the tiny stage in the round, her actors wink and banter with us, a conspiracy of familiarity that can go a bit panto. The splendid Zoë Waites doubles the role of Lady Touchwood with Cynthia, Mellefont's grave, wise intended – which deflates the climactic dagger scene with giggles when one of her characters supposedly eavesdrops on the other. Like much in this comedy, the dagger feels unsettlingly out of place – all the more reason not to blunt it.
Above: Zoë Waites as Touchwood with Edward MacLiam's Maskwell. Photo by Robert Day.
Follow David on Twitter: @mrdavidjays